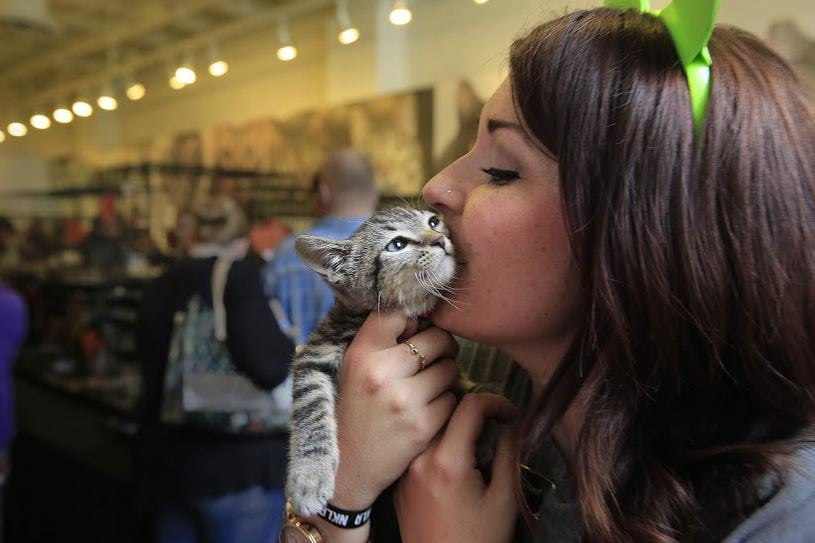 Lil Bub, Pudge and Nala will be there, plus several thousand enthusiastic ailurophiles keen to celebrate all things feline, from cat culture and art to videos and creative cat products. CatConLA is back for a second year in downtown Los Angeles at The Reef on June 25 and June 26. Tickets are on sale for $25 for one day or $40 for the weekend. You don't have to wear cat ears made of black lace or green foam to be part of the scene, but if it feels good, you might want to play along.
The curious will want to explore Animal Planet's Escape Room. And you won't want to miss a chance to rub noses with kitty celebrities. "Bub is back," says Susan Michals, founder of CatConLA. She will be accompanied by her dude, Mike Bridavsky, who has helped Bub deal with her osteopetrosis and other health problems related to genetic mutations. Lil Bub, aka Lillian Bubbles, is known for her sweet personality, short legs and ever-present pink tongue, due to her short lower jaw.
And she'll be joined by her gal pals, the mustachioed Pudge and Nala the Cat, a Siamese-tabby rescue kitty adopted from a shelter.
Or you can visit the 3,000-square-foot adoption village, The Clowder Lounge, presented by Hill's and Petco, where you can meet dozens of adorable rescues hoping to find homes. "Last year it was anticipated that 25 cats would be adopted during the weekend, and 74 ended up going to new homes!" says Michals. "This year, SPCA of Los Angeles is our adoption group of record, and we're hoping for an even bigger kitty adoption blowout!"
CatConLA is also hosting Saturday night's Internet Cat Video Fest with Will Braden, the man behind Henri le Chat Noir. Or you can indulge in a little retail therapy by shopping booths offering the latest cat products, toys and accessories, as well as cat-centric art. Michals says she's excited about CatCon's First Annual Furr-ocious Fashion Contest and pageant.
Michals has made it her mission to shake-up stereotypes about cats and the people who love them. "It's very much about redefining the cat lady – you can be chic and stylish and have a cat simultaneously!" Here's her cat, the fabulous Miss K, who is also the CatCon Muse. Michals shared this photo of Miss K at home.
To find out more about CatConLA, visit the Facebook page and Website.
Nala says be there or be square.