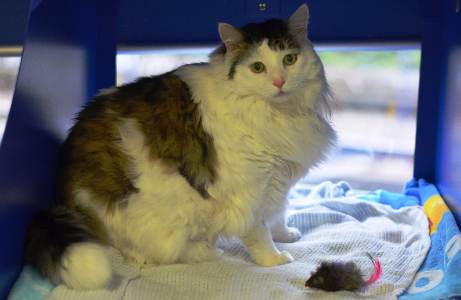 .
Battersea's fattest cat ever starts Christmas diet
The London branch of the longstanding UK animal charity Battersea Dogs and Cats Home has taken in their fattest cat ever and is speaking out against the degree of overfeeding that leads pets into life-threatening obesity.
Meanwhile, 26-plus pound kitty Texas is getting help to lose weight and get fit after losing his petparent and ending up at the shelter.
Battersea says that since the 12-kilo, or 26 /2 pound, monstrously large cat weighing three times the recommended weight arrived at their London centre they've been desperately trying to help the morbidly obese kitty begin to trim down.
When the tabby and white kitty, re-named Texas after America's larger than life state, came into care last month after his petparent passed away, Battersea staff were stunned to see the size of the eight-year-old domestic long haired cat, whose weight made him proportionally similar to a middle aged man weighing over 500 pounds.
SuiLi Weight, Battersea's Cattery Team Leader, said: "Many people may be starting to think about losing a few pounds in the countdown to Christmas, but for Texas this really is a very serious health issue he's battling. At Battersea we take in around 3,000 cats every year, so we see cats of all shapes and sizes, but Texas is by far the biggest cat we've ever seen. We have had to specially kit out his pen with a double staircase up to his bed and extra bedding to make sure he is comfortable. Some people might think it's funny to see a cat this big but it is in fact extremely sad to see an animal which is suffering so badly."
Texas has now been moved to a home with foster caregivers where he will have more room to move around and exercise and to get one-on-one attention.
SuiLi added: "Overfeeding your cat is a form of cruelty, you may think you are showing it love by giving it treats and feeding it human foods, but it's in fact an incredibly cruel thing to do in the long run."
Battersea is taking inquiries from interested adopters at its London location.

Texas gets a low-stress workout chasing fish on an iPad game:
.
.
<via>