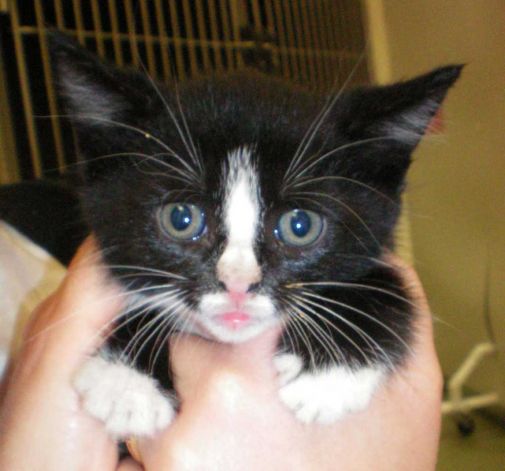 The Gadsen family, Allen, his wife, and their 3 year old son spotted a 6 week old kitten in the middle of Lexington Parkway in their Niskayuna NY neighborhood on Sunday night, as tropical storm Irene continued to asault the Albany area with strong winds and rain. Mr. Gadsen picked the little fellow up, but the kitten slipped his grip and ran off into some bushes where he was protected from both the storm and the Gadsen family's efforts to save him.
Mr. Gadsen came back out at 7:30 Monday morning, saw the kitten, managed to pick him up, and took him to the Animal Protective Foundation in nearby Scotia.  The kitten is named Stormy for now, and Mr. Gadsen says of the little one's ordeal in the tropical storm "That little kitten went through a tough night". Stormy's rescuer hunted for more kittens and listened for a concerned, meowing mama cat but didn't see or hear any traces of Stormy's family.
The kitten is currently staying with a foster family and will be made available for adoption when he is old enough and has been neutered.