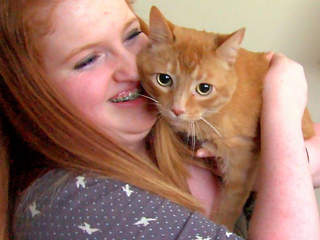 A Fairfield, OH mother and daughter are overjoyed to be reunited with their cat Rascal, who was found in the remains of their apartment 22 days after a huge and deadly fire.
Melissa Strunk and her daughter Kelsey ran from their apartment and out of the building without their beloved cat Rascal on April 29, the night of a fire that killed one person and displaced eight families.
"I automatically felt guilty that I didn't grab him, like, when we went downstairs," said Kelsey, who hoped Rascal had somehow managed to escape the fire.  "One day we went behind the pool at the complex and we saw that there was like a house and a shed with cats with like cat food and stuff," she said. "So I thought he was in there." He wasn't.
"I felt terrible, my daughter was devastated and I wanted to find him but we weren't finding him anywhere," Mom Melissa Strunk said.
Melissa was allowed back into the apartment on May 22 to reclaim any belongings that remained and were worth saving. While there, she heard sounds coming from Kelsey's dresser. "They had to flip some stuff off the dresser," she said, " but sure enough he was in there. " Rascal was alive and hiding out in Kelsey's dresser.
"It was a pretty amazing feeling to find him and know it was going to give my daughter a lot of relief," Melissa said.
Kelsey got the surprise of a lifetime when she came home from school that day. "I walked in and he was standing right there," she said. "I just started to cry my eyes out."