Two cats and a duck adopted later, after their family lost their beloved dog earlier this year, have all bonded and become great friends.
The unlikely trio came together after Ogilvie, Minnesota residents Katie Stulc and her husband Nick DuFoe suffered the loss of their black lab Minnie, who went out into the woods on potty break one day in April and never returned.
"I let her out to do her business, came out 15 minutes later and she was gone," Katie remembers. "We were very heartbroken, and knew at that point we couldn't get a dog anytime soon.
"One of my friends posted on her Facebook that she had ducks, and I'm like… 'that'd be kind of fun.'"
The family named the Muscovy duck chick Penny and introduced her to their two cats,  Sheldon and Leonard, who were themselves still tiny ones at the time.  Sheldon and Leonard quickly accepted Penny as one of their own, and the duck considers herself one of the gang.
"Goofy, goofy duck," said Katie.
"We were very nervous of that, like 'how's this gonna work, the cats are going to want to eat our duck.'"
When the cats come outside in the morning, they head right for Penny's nest, which is in the fenced-in dog kennel. Penny is then let out and the trio head up the path to the front of the house, where they spend the day sitting in the sun or wandering around in the yard. When the sun goes down Penny knows to head back down the path and she goes back to straw the bed in her crate.
"Hangin' out… that's what they do," sighed Katie.
"There's no one else like us," Katie said. "That's for sure."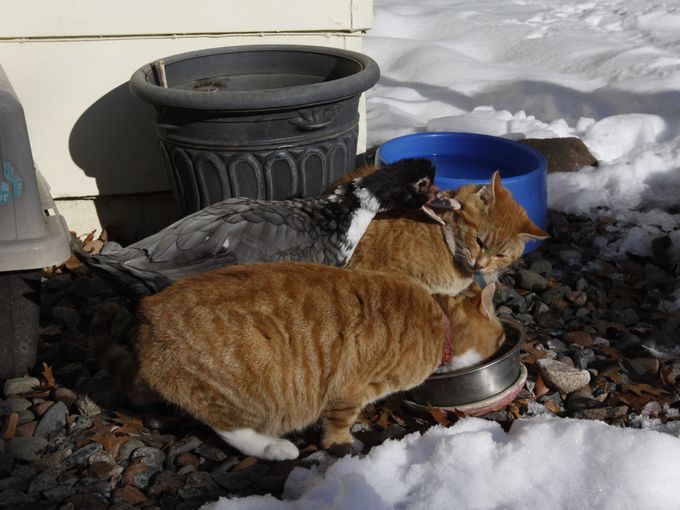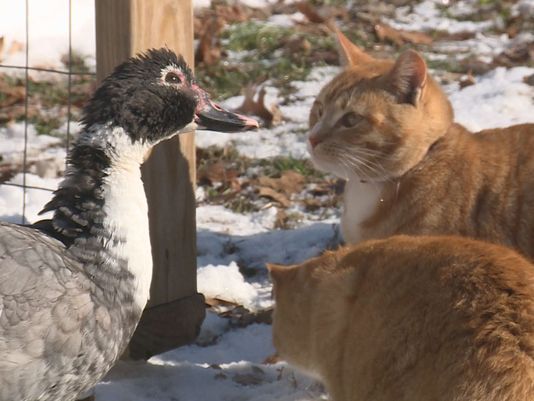 KARE Channel 11 featured the trio of friends here.