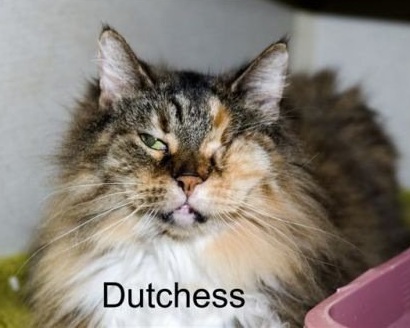 Duchess' adoption picture.
Beautiful, fluffy Dutchess (now Duchess) waited eight years for someone to appreciate her enough to adopt her. Actually, she waited years for someone to show any interest at all. The day her new petmom came to find her, the woman walked over to Duchess' cage and asked the manager if the cat minded being picked up.  The manager said that she didn't know because "no one ever tries"
Duchess was abandoned in a vacant apt in 2003, left when her family moved away, and was found with her dead or dying kitten. A neighbor brought the four year old Maine Coon – Persian mix to Will County Humane Society, a no-kill shelter in Illinois. Thanks to the shelter's compassion and no-kill policy, Duchess was allowed to live even though no one wanted to adopt her.
The shelter's cat room coordinator, Carol Hathaway, feels that part of the reason Duchess was continually overlooked is that fact that, though beautiful, cuddly and somewhat playful, she is a one-eyed kitty. An infection caused the loss of the eye.  Ms. Hathaway told the Chicago Sun Times, "People just stopped looking at her".
At the shelter
_________
Duchess was adopted a month ago, and now she is given the love and appreciation she deserves. She has received some much needed veterinary care and has learned to accept the love and comforts offered by her forever family. Her new, wonderful petmom Andrea Pauly posted two entries on her blog telling about Duchess at the time of her adoption and afterward, and Andrea has kindly agreed to let us share those posts here. You can also click on the post titles and read them at Andrea's blog, Divine Theatre.
Here is Duchess' story as told by Andrea.
Duchess (8/20):

While creating my last "New Leash On Life" post I gave in to
PetFinder
temptation and I looked in my local area for pets in need.
Several weeks ago I lost one of my best kitty friends, Shenanigan, to cancer.  The loss was unexpected and devastates me to this day.  I miss her more than mere words can define.
I know all too well how many animals need loving homes. It is heart wrenching. All of our kitties were strays. They literally walked into our lives (and we are all the better for it!)
Since we have moved to our new home there are no strays in the immediate area. I know. I have been looking! The subdivision is brand new and devoid of any animal life. No squirrels, skunks, oppossums, raccoons. Some birds. Not many. No trees. I digress…
When Shenanigan passed my husband said "well, we are used to having six cats…" Hardened police officer by night, cat furniture by day (he works nights).
I am in no way attempting to replace Shenanigan.  She has a special place in my heart, in the fabric of me.  My animal friends have given me nothing but unconditional love.  It is a breeze and a gift to love them back.  The amazing thing about love is that the more you give the more you have to give.  My pets taught me that.  In doing so, they have planted a seed in my heart and soul.
Duchess at home
I called the shelter where Duchess has been living for the past  EIGHT YEARS!!! They have a policy that you have to wait 24 hours between filling out paperwork an bringing your pet home.  Since they are closed on Fridays we had to wait until today.
On Thursday, Gracie and I sped to the shelter to meet Duchess before they closed. I was so nervous, afraid she wouldn't like me. The shelter manager directed me to her cage. It was open but she was sleeping inside. All the cats roam during the day. I was in kitty heaven!
We walked to her cage and asked the manager if Duchess minded if I picked her up. The manager told me that she didn't know because "no one ever tries". I spoke softly and gently lifted her.  he was so full of purrs and affection!
Duchess is thirteen years old.  She was found abandoned in a vacant apartment with her kitten eight years ago.  Her kitten died. She had a terrible eye infection which necessitated its removal. Poor, perfect little angel.
No one had tried to pick her up…  That echoes in my head.
Her story isn't the only one.  There were so many sad looking little babies who had been let down by the people they trusted.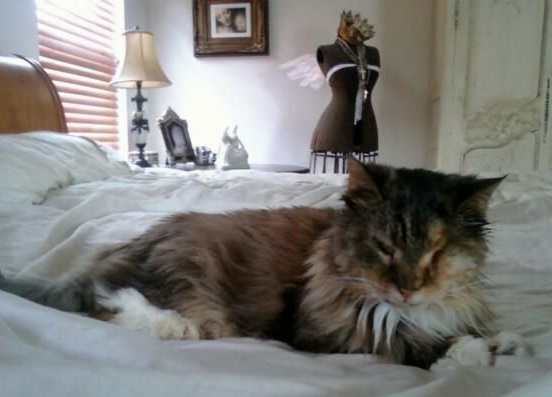 We will be getting ready to leave soon.
Duchess! We will be there when the shelter opens! You will sleep on velvet, feathers and silk. You will eat out of silver and crystal. We will love you forever. We will cherish every moment of your time with us. I will never let you suffer again. I promise. I promise.
__________
Comfy and living in luxury, on Andrea's daughter's be
Andrea made an update post a week after the adoption.
Duchess spent two days at the veterinarian's office after she came to live with us. She spent the past EIGHT YEARS in a local shelter.
The day before I adopted her she spent time at the shelter vet so you can imagine my surprise when my vet told me she had five infected teeth, both ears were infected and her remaining eye was so infected she could not see!
When I went to my vet to retrieve her after her two day stay, the technician told me that "shelter care is not the same as regular care".  How could that be?  The shelter vets charge a discounted fee but does that mean the service they render is acceptably incompetent?  This kitty and many other animals may be suffering under the "care" of veterinarians whose job it is to keep them well!
Unacceptable! All the more reason to adopt a shelter pet (or seven)!
She currently is not feeling her all-time best but in time she will recover and gain much needed weight.
She is a loving girl. Very trusting as well. I cannot imagine the suffering she has endured!
She has been in the upstairs guest bathroom since Thursday after her surgeries. She looked so sweet in her iron canopy cat bed but I have no photos. You'll have to take my word!
This was supposed to be Duchess's bed but she prefers ours…We love snuggling with the little pixie!
I, however, slept on the tile floor next to her. My back feels surprisingly good, though!  LOL!
Faerie Princess and Atticus slept near her on the bed in our room this morning but Duchess didn't want them to get too close. She certainly is a bed hog!
Her full name is now "Lucy, Duchess of Yorkshire"! We live on Yorkshire Street so it seemed befitting of her ladylike nature! LOL!
Andrea gave us this current update today, "She is slowly gaining weight and becoming part of the family. She seems to have no fear! Even my ginormous orange tabby, McGillicuddy, can't get a rise out of her and Napoleon, the puggle, knows to give her a wide berth!
She has an appointment at the vet this evening…just a follow up. I know she's just fine, though. She seems happy.
We are also bringing her Christmas stocking in to be embroidered.  We will stick to simply "Duchess" for that, though!"