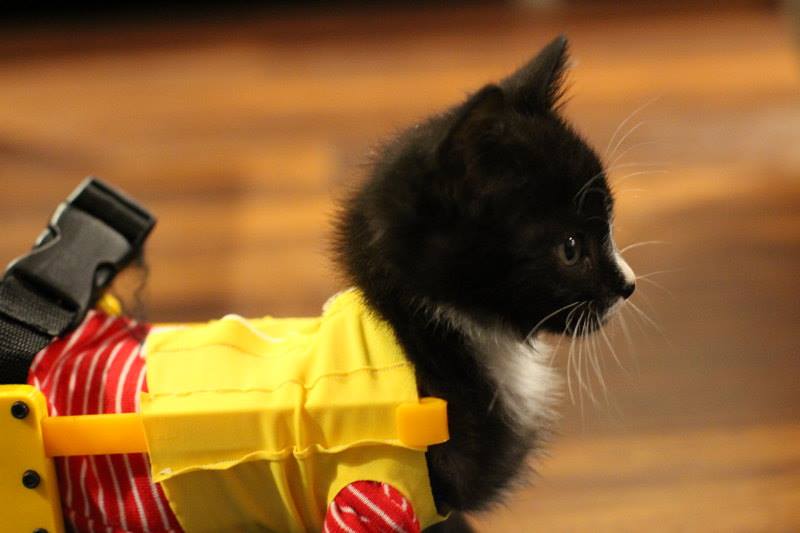 When Tiny Tim and his littermates were saved from euthanasia, no one initially realized that the young kitten – between 8 and 10 days old – was paralyzed from the hips down. But thanks to a technology group, the tiny kitten is getting the wheels he needs to get around.
Friends of HCACC rescued the kittens from the euthanasia list at the Horry County Animal Care Center in South Carolina with hopes of finding new families for the kittens. Tiny Tim's condition changed his outlook for a new family, though.
Tiny Tim had to drag his hind end along behind him, which made it difficult for the kitten to get around. Knowing that the kitten would need a wheelchair, staff at Friends of HCACC set about looking for a ready-made wheelchair. Tiny Tim's size presented a challenge, though, since no ready-made pet wheelchair could be scaled down small enough for him.
Local learning group SubProto stepped up to the plate. The tech group donated the time necessary to create a wheelchair sized to Tiny Tim's needs, even printing out a 3D prototype to make sure that the chair would work. Tiny Tim had his first wheelchair fitting on December 13th, and the group will continue to alter the chair so that it works for Tiny Tim. The chair should be completed in a few weeks.
Because SubProto is using computer software paired with a 3D printer, they can easily produce larger models of the chair as Tiny Tim grows.
Tiny Tim still has a long road in front of him, and will have to see a neurologist to assess his condition in the coming months. For the moment, though, he's content to play and doesn't seem to know that he's disabled at all.
If you would like to donate to help with Tiny Tim's expenses, visit the Friends of HCACC website. You can also learn about the progress on Tiny Tim's wheelchair through SubProto's Facebook page.