Dexter was quite the community character during his 4 years on the loose; so much so that neighbors threw a party when one of them finally trapped him. Now he is safely back with his family.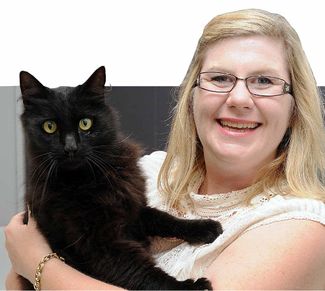 Anna Stevenson and Chris Golden were away on holiday when Dexter somehow went missing in 2007. They tried all the usual means of finding him without success and finally concluded that Dexter had met his end. The couple moved from Shepparton, Victoria, Australia to Harvey Bay, 1660 km away, thinking that Dexter was just a fond memory.
That all changed on Wednesday, when the Shepparton Council animal shelter contacted Anna to tell her that Dexter was alive and well and in their custody. A microchip scan had confirmed the ID. Jetpets and Pets to You assisted with air transport and Dexter is now happily back with his family. Anna said that Dexter responded to his name, and to his people, and appears ready to settle back in to his role as family pet.
During Dexter's four long years apart from his family he became a well known character in Shepparton, eating food out of other animals' bowls, fighting with neighborhood dogs and constantly eluding capture. An elderly woman finally managed to trap the beautiful black cat and take him to the shelter. Reportedly, the whole street threw a party at the feisty cat's capture and safe return home.
Anna Stevenson expressed her thanks to all who helped to bring Dexter back to her, and says he will remain an indoor cat from now on.