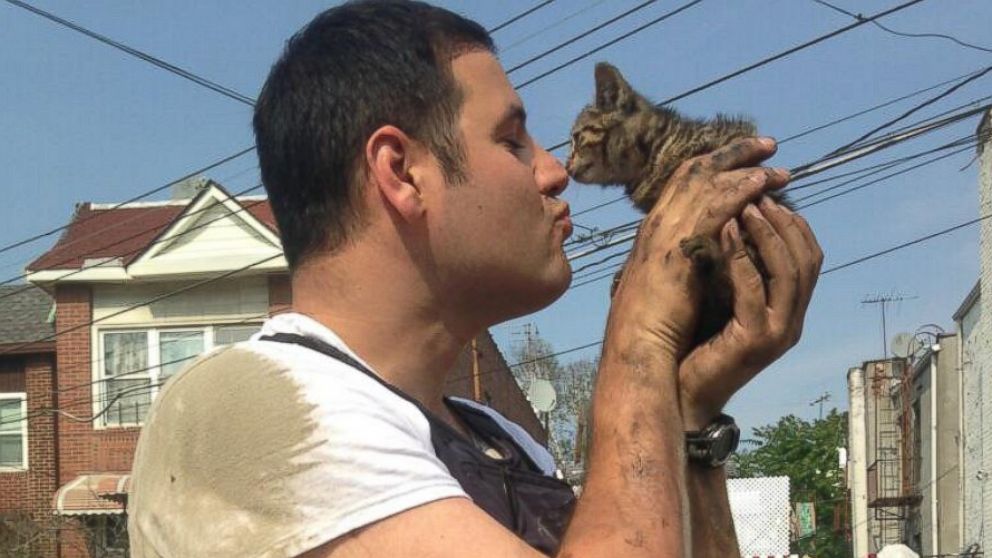 .
The NYPD's 60th Precinct in Brooklyn posted the cutest pic ever of a cop and a kitten at Twitter on Friday following the little one's rescue, and the New York City police officer who saved the kitten from a car's engine compartment also found him a loving home.
NYPD later told the story at Facebook, writing:
"Police Officer Passarella saved a stray cat, and helped the kitten find a loving home. Officers assigned to Brooklyn's 60 Precinct responded Friday to a report of a tiny cat trapped in the engine block of a minivan.
"Police Officer Passarella first got down on his back and slid under the car, but he still could not reach the tiny kitten. After a few attempts, and a few scratches, Police Officer Passarella fit his arm around a few belts and was able to reach the cat, pulling him out to safety.
"Police Officer Passarella also knew the cat was a stray and wanted to find him a home. The kitten was adopted by another police officer, who gave it to her son. The little boy and the kitten, named "Pazzy" after Passarella, are now great friends
Officer Passarella's proud mother Rhea wrote at Facebook: "My amazing son.we love you and are so proud of you."
Officer Passarella told ABC News: "[I'm] definitely ecstatic that someone I know personally was able to take the cat. Definitely gives me peace of mind knowing that it's going to be OK."