Reno NV area kitten Clover made the news when he was thrown from a moving car, injured, and rescued. He was in the news again when a good hearted young boy held a lemonade stand fundraiser for him. Now, after just one month, he is ready to find his forever home.
Kukuis Alii animal rescue in Dayton, NV took in Clover on June 27  after he was thrown from the moving SUV, and got medical care for the 7 week old kitten at Dayton Riverside Veterinary Hospital. Clover suffered a broken leg, head trauma and vision loss.
Clover was already much improved by July 16, when 8 year old Dylan Darrenogue held a well-publicised lemonade stand fundraiser in front of Olivia's Ice Cream, in Reno. Dylan raised over $300 and the ice cream parlor agreed to accept donations through the following week. Clover's caregivers learned of the fundraiser and brought him to meet the boy whose heart he had so deeply touched.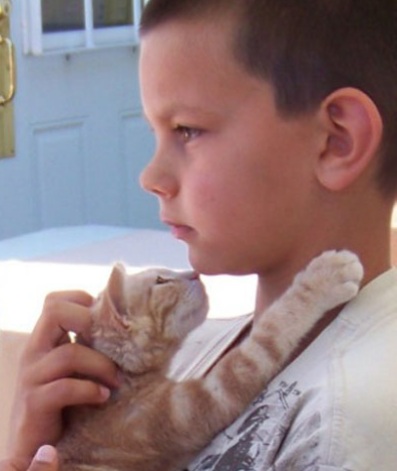 Clover with his friend and benefactor, Dylan
Now, only a month after the terrible incident, K.A. feels that Clover is ready to find his forever home. Clover has made friends with another kitty named Gizmo, and the rescue hopes that the two can remain together. K.A. requires a home visit and a questionnaire  of serious potential adopters, and that the adopter is able to care for any medical issues Clover may have. The adopter will need to be able to pay for Clover's  medical care, both now and should there be further problems in the future.
Clover, at present, remains partially blind and is described as being very loving.
Those who are seriously interested in adopting Clover and can meet the rescue organization's requirements can contact Deborah Larson at [email protected]
Our original story on Clover: 8 Year Old Dylan Raises Money For Clover, Kitten Thrown From Car