Clark was near death when found in the gutter on Nov. 21, 2011. The woman who adopted him last May and then turned him out on the street because he looked sick was found guilty in absentia yesterday when she failed to appear in court.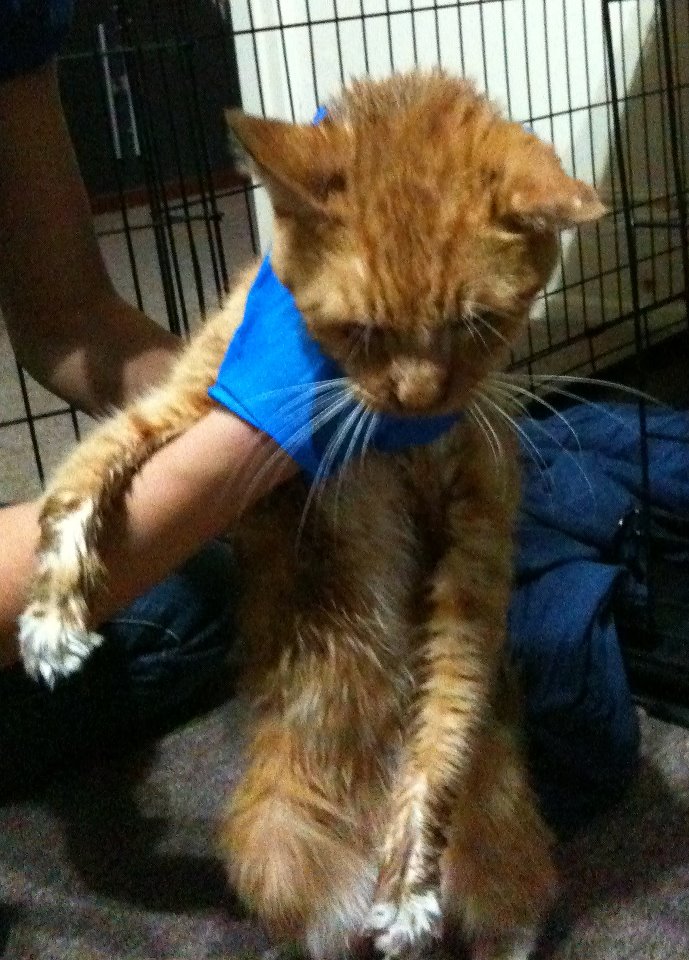 This is how Clark Kent looked the night he was saved from a certain death, collapsed on the street, and turned over to the stewardship of Philadelphia animal rescue organization City Kitties. When the photo was posted at Facebook that night, it spread virally and Clark became the object of international concern. Clark stayed at The Cat Doctor, where he received care, at one point went for surgery to have a rusty metal object removed from his stomach, and is currently living in foster care.
A chip scan when Clark was found identified his owner. A call to the family got the response from the adopter's mother that, when the cat seemed to become sick, the daughter had just put him out rather then taking him to the vet.
This information prompted an investigation by the Humane Law Enforcement Division of the PSPCA. Clark's adopter was charged with animal cruelty, for  neglect, with a court date set for yesterday, January 11. The woman failed to appear and was found guilty in absentia.
Under Pennsylvania law, the charge was a summary offense for the first time offender, with no possibility of jail time. She is, instead, prohibited from owning, possessing, or having custody/control of animals for 90 days; the maximum penalty in this case. She was also ordered to pay restitution for Clark's vet bills.
While the penalty is universally considered to be no way in keeping with the damage done to Clark and the suffering he endured, it is what the law currently allows. City Kitties and the PSPCA suggest that Pennsylvania residents who want to see stiffer penalties contact their legislators and encourage them make changes to the laws.
The court date has legally freed Clark from the former adopter's ownership, so he is now able to be adopted. City Kitties already is considering one or more applicants.
Clark has made great progress toward recovery, but recent tests have shown that, as feared, he is in renal failure. This serious condition may be a result of the deprivation he faced after being booted out of his new home; we don't know. He will need to receive subcutaneous fluids twice per week for the rest of his life, eat a special diet, and get plenty of water. Clark has also been determined to be an 8-10 year old kitty, and not the 2 year old that his shelter records indicated.
So, justice has been served, after a fashion, Clark is now legally able to go to his forever home, and, perhaps, his case will prompt efforts to enact more serious penalties for animal offenses.
For more on Clark Kent, click HERE.