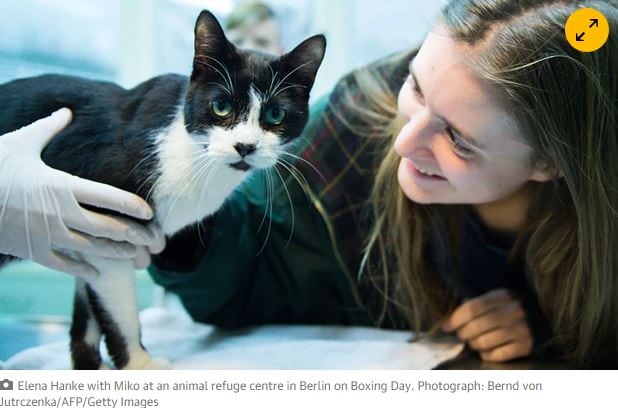 A cat named Miko that disappeared in 2008 was discovered alive and well and reunited with his amazed and delighted owners. Miko's family, who live in Berlin, received the good news about their long-lost kitty on Christmas Day, according to a report in The Guardian. "A family from the Charlottenburg [neighbourhood] this year experienced a Christmas story with a particularly 'happy ending'," a local association for the protection of animals announced on Saturday. "They learned on Christmas day that their cat, Miko, had been found – seven years later." The group runs a shelter for animals where Miko was identified. The reunion was made possible by Miko's microchip. A recent study showed that less than 2 percent of cats without microchips were returned home. However, if a cat is microchipped, the return-to-owner rate is 20 times higher.
The feel-good story was picked up by news outlets around the world.The black-and-white tuxedo cat was was found in a neighborhood just a few miles from where it lived. The Guardian reported that Elena Hawke, now 18, was 11 years old when she searched in vain for missing Miko. Elena and her sister, Jennifer, made the trip to the shelter to recover Miko, who was pronounced "too thin" but otherwise healthy by the shelter's veterinarian.
Microchips are made to last a pet's lifetime. A microchip is a tiny electronic chip about the size of a grain of rice and enclosed in a glass cylinder. Implanting one is relatively quick and easy, and is no more painful than a vaccination, according to petfinders.com. The microchip is injected under the loose skin between the shoulder blades. They can not be used to track a pet like a GPS device. Instead, they are scanned to reveal the cat or dog's identifying number and owner contact information, which is stored in a database.