………………………………………………………………………………………………………………………………………………………………………………………………………………………………………………………………………………………….
Credit Egon, Venkman, Raymond, and cute little Gozer for taming the rat problem at Empirical Brewery.  The same can be said of Patch, Fluffy, and Skinnerina who helped clean up a suburban backyard that, at one time, had a 400+ population according to exterminators. The rat problem was so critical that, according to Q13Fox, pest control company Orkin called Chicago the "rattiest" city in the country.

Chicago has been taking measures to get people's attention about the problem and what they do to break the cycle.  A task force was created at the beginning of April to take the war on rats to the streets.  The city has added ten more rat patrol workers, who, working with data analysts hard at work identifying migration paths and related information, will be physically closing up rat holes by various means.
Public awareness to the issue has also be ramped up, including signage
In 1971, Tree House Humane Society became the first cageless no-kill cat shelter in the states, but they have pioneered an approach to rat control that has been working wonders.  Chicago created an ordinance in 2007 called the Managed Care of Feral Cats which gave organizations the ability to use TNR methods.  Tree House presently handles 650 colonies, totaling in the neighborhood of 3.600 cats.  With that, however, there are occasions when an animal that has been trapped and neutered may not be able to return to their home area, so the innovative idea was created out of a need.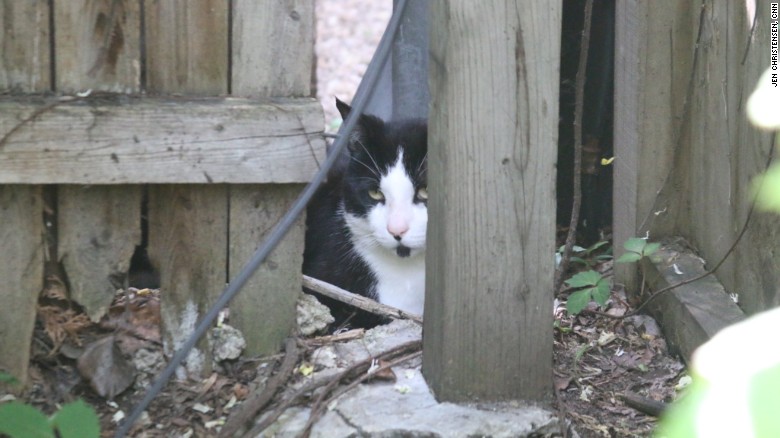 A placement for a cat runs about $200 per animal, but it comes with a strong plan of action.  Liz Houtz, Community Cats Program Manager, shared the process, which doesn't entail simply dropping the prospective rat hunters off where they are needed.  Instead, it requires some concerted effort.  "The cats would honestly have no reason to stay, they don't know the area," she said.  the cats are acclimated to their new surroundings by being put up in what would amount to a luxury condo, a giant dog crate converted with litter box, scratching post, the prerequisite toys, all housed within the comfy "kitty apartments."  It  is about a four week process for the cats to get used to one another, sounds, and smells of the new environment.  The caretaker, be it business or a private home, agrees to feed their colony twice a day, provide them shelter, and the necessary vet care.
While there are those who are advocates for birds, citing the arrival of cats as being harmful to the are populations, Chicago government views the Cats at Work program as being integral to the rat infestation that has long plagued the city.  As of mid-month, there is a waiting list, people even trying to bribe the program manager, to get a much coveted colony.  To date, close to 160 cats have been placed.
The program has caught so much attention similar organizations from across the country are reaching out to Tree House to learn more and see how they can set up something similar.  The bottom line to Cats at Work is this.  It is effective. It is making an impact. And it is saving lives of feral cats, too.
If you want to know how the "Ratbusters + 1" are doing, follow Venkman on Twitter @VenkmanTheCat
To learn more about Tree House's Cats at Work program check out click here: Cats at Work