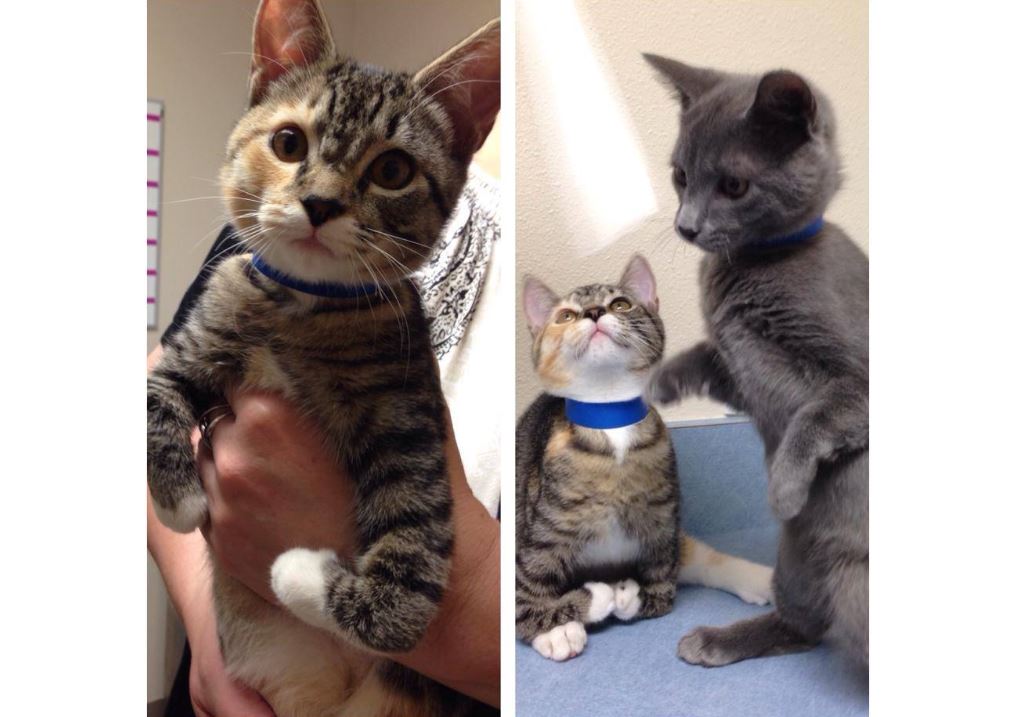 A pair of sweet kitten siblings born with a congenital deformity causing bent front legs are looking for a good home with someone who can give them special care.
Cha-cha and Hustle were found in Northeast Portland, Oregon on August 11 and taken to Multnomah County Animal Services (MCAS). MCAS transferred the kittens to the Cat Adoption Team (CAT) in Sherwood, where the two 12-week old kittens with leg deformities became immediate favorites.
The kittens—dubbed "the BUBs of CAT," an homage to feline celebrity and special needs advocate Lil BUB—have a congenital physical deformity that, like Lil BUB's dwarfism, affects their mobility. The pair's nickname is also a nod to a $2,500 grant to CAT from Lil BUB's BIG Fund for the ASPCA made earlier this year to help with the care and treatment of homeless senior and special needs cats at CAT.
The condition causes Cha-cha, a female calico, and her brother Hustle, a gray male, to walk on their front forearms rather than front feet. The kittens are playful and appear otherwise healthy, although it can be difficult to determine whether correlated issues may arise in the future.
Cha-Cha and Hustle were made available for pre-adoption,  pending spay/neuter and a veterinary consult (aka adopter will speak to CAT vet about the kittens specific needs), on Saturday, August 16.
"Cha-cha and Hustle, like Lil BUB, have special needs that can be particularly endearing," says CAT executive director Karen Green, "but cats with medical challenges that involve a prescription diet or daily medication don't always find homes as quickly. Just as Lil BUB's celebrity has brought awareness to pets with special needs, we hope that sharing Cha-cha's and Hustle's story will inspire Portlanders to consider adding an 'imperfect' cat to their family."
Watch CAT footage with Cha-cha and Hustle:
 
 
FOX12 reported on the kittens on Friday: