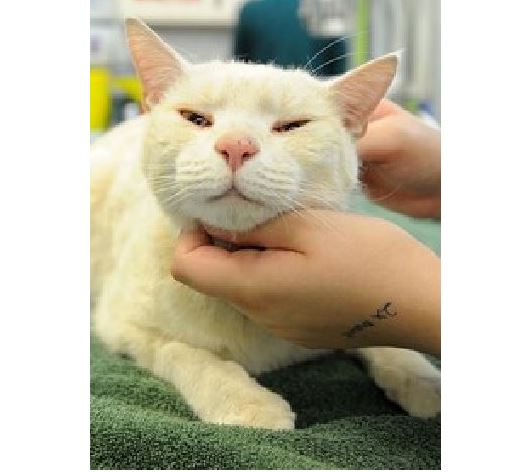 .
A cat with a rare blood disorder is being treated with an old and unusual procedure – bloodletting with leeches.
Archie,  2 year old cat from Plymouth, UK, was diagnosed earlier this yer with polycythaemia vera, a disorder impactcting red blood cell count. The outlook for Archie would have been quite bleak, but his veterinary specialist in Bristol referred him to another practice where he is getting the highly unusual but effective treatments.
Last month, Archie began getting a successful course of treatment at The Veterinary Centre in Estover, in which leeches are used to extract excess blood.
The procedure works like this: The leeches' saliva contains substances that anesthetize the application area where the sucking creatures latch on. The substances also dilate the blood vessels to increase blood flow and prevent the blood from clotting. When the leeches fills with blood, they detach and fall off, but the patient continues to bleed, allowing for continued circulation and new vein growth.
Pru Harvey, the veterinary surgeon in charge of the procedure, spoke with the Plymouth Herald for a July 22 story, telling how it took a bit of effort to get the leeches to latch on to the cat during his first treatment, and giving a run-down on the experience.
"It could have gone far more smoothly," she said. "The leeches were reluctant to attach initially, but two of the four eventually stuck on.
"We've not long finished the procedure, and they'll need to stay on for a few hours before we can take a look.
"Archie was quite stressed this morning, and I'm not sure he's a fan of the crawling around sensation he can feel on his body!
"But we've put a collar on him to stop him gnawing them off and we've numbed the area where they're attached slightly too – I don't think he can really feel it anymore.
"Unfortunately for Archie, it is an incurable disease. It's a case of management at this stage, so we'll have to assess if leeches are the best course of action or not.
"It will depend on how Archie responds and whether or not he can cope with the stress. If I feel it's putting too much stress on him, I won't continue with this course of treatment – but we'll have to wait and see."
The Herald says Archie's vets don't know how he contracted the disease, which is extremely uncommon in cats.  The vets say Archie will require continuing treatment to help him live with the condition.