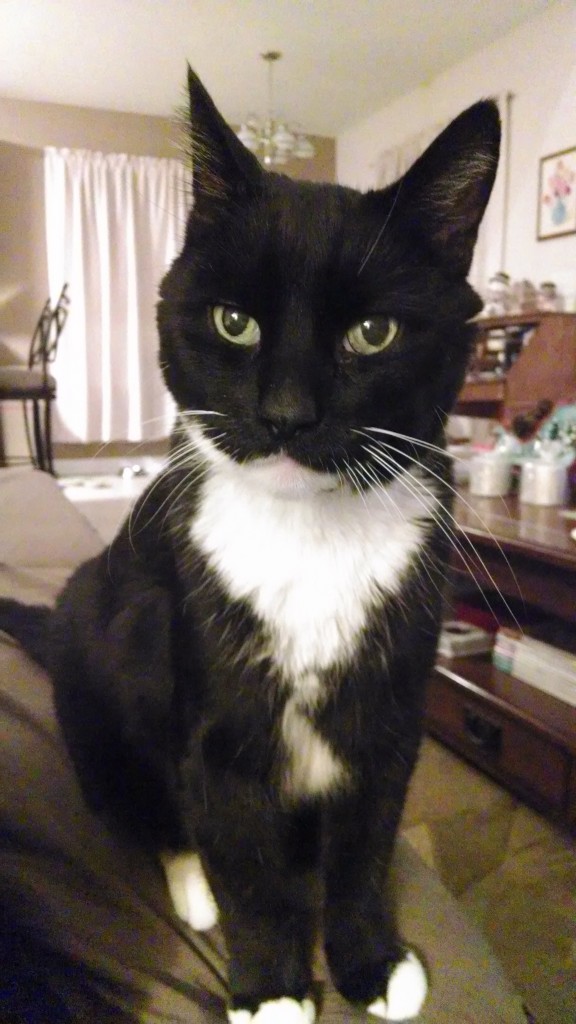 Sweet Willie, appropriately named for his especially sweet personality, ended up in a local high-kill shelter after having lived with the same family for 10 years. And what was his crime? Apparently, the reason given was that he "gets into the baby crib and sleeps around the baby."
He just wanted to cuddle with a new addition to the family! Yet, there he was, alone and disoriented in a shelter that had a high chance of euthanizing him. The staff at the shelter fell in love with Sweet Willie and could not bring themselves to kill him, though. Apparently, he had already been given three "stays of execution" to give him an extra chance.
Finally, they decided to call a local, no-kill animal rescue group, Safe Haven Cat Shelter and Clinic in Raleigh, North Carolina. This was Sweet Willie's last chance! The staff at Safe Haven decided that they had to do something, despite being quite busy with a deluge from kitten season.
A volunteer immediately went to pick him up and quickly saw how special Sweet Willie was.  He has big, beautiful emerald green eyes and always looks like he is dressed to the nines in his dapper tuxedo. He kneads the air when you pick him up and is a great conversationalist-the perfect guy!
They knew that they had to find a perfect home for Sweet Willie. First, he had to see the vet, though. They discovered that he had dental disease and needed a good teeth cleaning, but was in otherwise good health!
He did not like being in a cage after having lived in a home for years and would call out to anyone that would listen. Before long, he became an office favorite, jumping on the staff's desks to look out the window, rubbing everyone's legs and sitting in their laps.
Fortunately, only six weeks after being rescued, an adopter with a perfect application arrived. Jennifer Murphy fell in love with Sweet Willie right away.
Jennifer has remained in touch and tells the staff at Safe Haven how perfect her big, handsome tuxedo is doing. Hopefully, Sweet Willie will live many more years enjoying being loved and sleeping cuddled up in his forever home.
————————–
Safe Haven Cat Shelter and Clinic is a no-kill 501(C)3 nonprofit organization founded by Pam Miller and her family, in 1994, in Raleigh, North Carolina. The operation first began in the Millers' garage until 1999, when they opened a separate facility, becoming the first permanent no-kill shelter for cats in the Triangle region of NC.
They guarantee life to every cat or kitten, except in cases of injury or illness from which the cat is suffering and cannot recover. They strive to ensure the wellbeing of every cat through adoption, affordable spay/neuter services, community outreach and adherence to No Kill principles.
They also have a clinic that provides low-cost services to stray, feral and owned cats in the region, as well as a pet food pantry to provide food to pets in need.