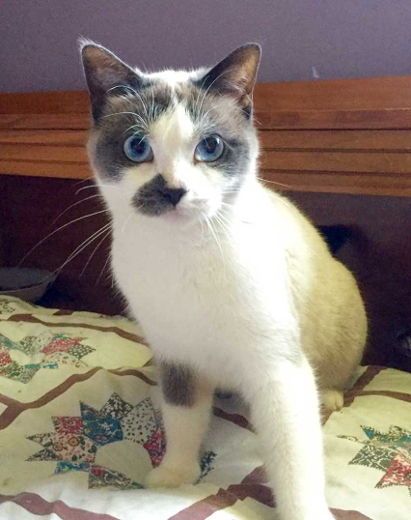 While it is true that our feline friends can sometimes be demanding, paying attention to them might just make a world of difference to someone in need.  Such was the case of Eric Russell who has Ivy to thank for possibly saving his arm.
Mary Johnston, who doesn't own a television, was involved in a book when her two-year-old Siamese mix, jumped into her lap.  Perhaps this was not usual behavior for Ivy, but she didn't stop there, continuing onto the windowsill, then back to the floor and, again, to Mary's lap, all the while being oddly vocal, which was not in her particular character.
Thinking Ivy was indicating an animal needed help, Mary rushed outside.  To her surprise, instead she found her neighbor, Eric, balancing on a stepladder, his arm caught in the door of his garage.  He had been attempting to repair it when suddenly it moved, effectively dislocation is shoulder and cutting off circulation, just like a tourniquet. And although Eric's wife was at home, she didn't hear his yelling.  Fortunately, Ivy was paying attention.
According to the The Sudbury Star, had Ivy not alerted Mary to Eric's plight, procuring two neighbors to help get him freed just before the ambulance arrived on the scene, the doctor's told him another 15 minutes may just have resulted in losing his arm.
As a thank you to Ivy for her quick thinking, Eric gave her (via Mary) a gift card to an area pet store where a cat tree was purchased.  Ivy and Nellie (Mary's second cat, a rescue that Ivy has been encouraging to become more social) are enjoying the Ivy's resulting accolades thoroughly.