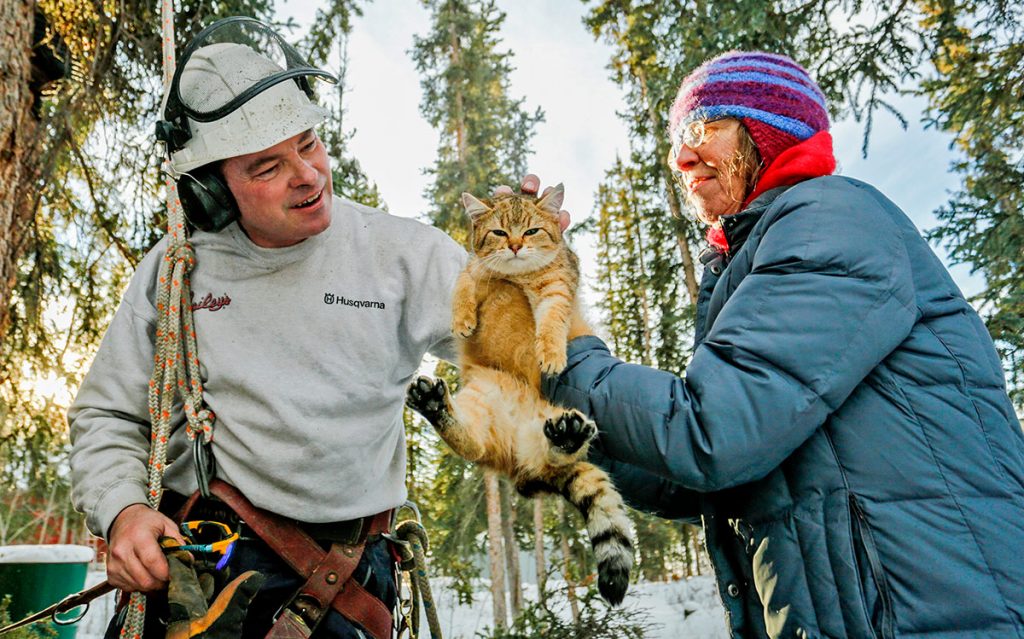 A cat got herself into quite the predicament, needing to be rescued from a tree in the Yukon Territory, Canada.
The six-month-old cat named Chelsea had jumped out her home's window and had climbed a tree. When Janis Jessop, Chelsea's owner, found her, the cat was perched nearly eight stories up in a tall spruce tree. And she couldn't figure out how to get down.
Chelsea was meowing, and though the temperature was hovering around freezing, the wind did pick up, swinging the top of the tree dramatically from side to side.
Unsure of what to do to help her cat, Jessop turned online for advice. She contacted the fire department, but was told that the volunteer firefighters did not assist with rescuing cats from trees. Next she contacted the electric company, but also was told that they couldn't help.
The next morning, Jessop contacted Russ Hobbis of Bilsten Creek Tree Service. Hobbis has been in the tree business for 27 years and has rescued all sorts of animals during that time. While he normally doesn't climb trees in the winter because of how difficult ice makes the process, he made an exception for Chelsea, knowing that the cat likely wouldn't find her way down on her own.
Hobbis climbed the huge tree, put Chelsea into his backpack, and brought her safely down to the ground. The process took about an hour.
For Chelsea and Jessop, Hobbis is a hero. Hopefully Chelsea has decided to give up tree climbing, at least for a while.