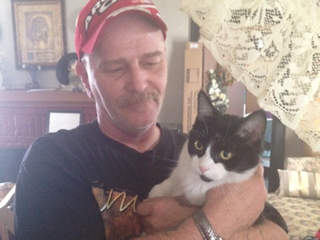 A man who has done a service to his community and to the cats others have abandoned is pleading with the public to open their homes to the cats now that cancer is forcing him to give up his home.
Thanks to Arnold Kuerbitz, homeless and abandoned cats in his Pontiac, MI neighborhood were off the street enjoying life in a good home. He has become locally known at the "Cat Man" in the process. Now Arnold is being treated for throat cancer and needs to move, since he can no longer afford to remain in his rented home. He knows wherever he ends up, he will not be able to bring the cats with him.
"They comfort me so much, they do so much for me and I could not turn a cat away," Arnold says, with his voice raspy from his condition.
Arnold first rescued CC the church cat, then others followed. "People are abandoning them, they move and leave their cats behind. Come on, how can you leave something like this behind? All they need is somebody to say 'You are mine, I love you'; it's going to love you back."
Pam Porteous of theMichigan Animal Adoption Network / Animal Care Network , an organization that helps low-income families care for their animals, thinks highly of Arnold and his efforts, and said "Everyone of these cats has been rescued off the streets from bad situations." The organization has been helping Arnold with the cats regularly and is now trying to help find them good, permanent homes. The animals are friendly and affectionate, and all are spayed/neutered.
"These cats are my babies, you think I want to give them up?: I don't, it kills me, but I have to do it." Arnold said in his plea, asking for people to provide homes for the cats he has rescued from the streets, cared for, and loved.
Arnold has 4 to 6 weeks to rehome the cats.
Michigan Animal Adoption Network / Animal Care Network is helping Arnold find new, permanent homes for his cats. If you or someone you know is interested in adopting one of his cats, please call their office at 248-545-5055 or email them at [email protected]. They will get back to you as soon as they can. Please, serious inquiries only.
The group can also be found at their Michigan Animal Adoption Network / Animal Care Network Facebook page.