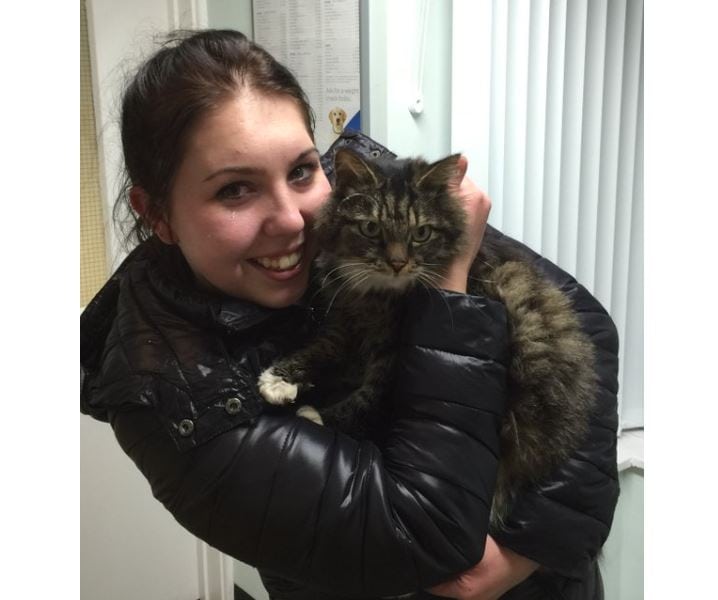 A Maine Coon cat traveling between Lithuania and Leeds in the UK escaped from the transport van during a stop at Leicester, on the final UK stretch of the long 1,400 mile journey that began in Vilnius.
Runcios the cat was headed from her former home in Lithiuania to Leeds, where she and her petmom Greta Tenenyte are relocating, when she escaped as her drivers cleaned her carrier during the stop at Leicester on October 4.
Greta made a desperate appeal on Facebook, and she and her brother put up posters in Leicester as they tried to find the missing and disoriented cat.
After days passed with no leads, Runcios was found and identified after she came calling at a local resident's door, looking for food.
The Leicester resident took the cat to Park Vet Group Glenfield Wednesday, where a microchip scan found kitty's chip, which was registered with Greta's up-to-date contact info.
Greta and her beloved pet were reunited at Park Vets on Thursday, three weeks after Runcios had gone missing.
The Leicester Mercury told the story in an article Friday that includes Greta's plea at Facebook, where she asked: "Help me to find my kitty. My heart is bursting, as I don't know where she is."
Park Vets practice nurse Angela Deacon is quoted in the Leicester Mercury story, saying: "The cat, apart from being hungry, was in very good condition. Luckily it had been micro chipped. So we scanned it and fed the information into the international database.
"It showed an address and contact number in Leeds so we contacted them."
Angela Deacon told the Mercury that Runcios' international transport papers had been properly made out and said Greta feared she would never see her cat again after learning that the couriers entrusted with her transport had accidentally lost her.
Runcios is described as being very happy to see her petmom again.
Greta said: "I can't thank the vets enough for contacting us. I am so happy to see my baby again."
Park Vets posted the reunion photo to Twitter and Alison Aikman from Park Vets wrote in Facebook comments, where the Twitter post was shared: "The most friendly and adorable cat I've met, he was a pleasure to have in at the vets! Glad you are reunited!"
Cat lost in travel from Lithuania to Leeds.Missing 1 month,bought to Glenfield surgery,owner found due to microchip pic.twitter.com/JQ62XfglXh

— Park Vets (@ParkVetGroup) October 29, 2015