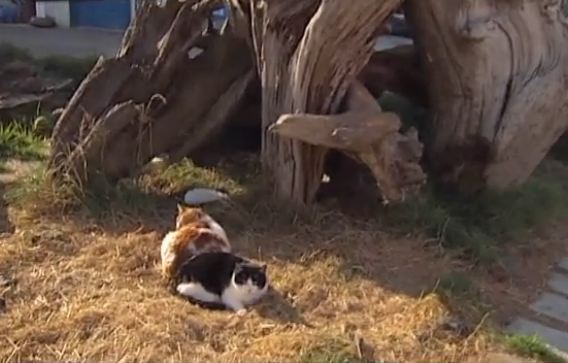 "It's my life's work, my life's passion. It's what I've chosen to do with the money that I have and the life that I have left. It belongs to the cats."
Kathy Perkett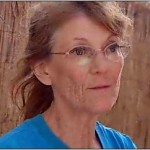 A Longview, Washington woman who has devoted herself to caring for 34 cats housed on her property is under attack from griping neighbors who are putting pressure on the town because they do not like her carefully created little sanctuary and want it gone.
Kathy Perkett and her son built a cat-friendly and well thought out enclosure in the back yard of her home in a residential neighborhood in Longview in 2008. Kathy told a reporter from KATU who showed up unannounced for a story in 2010 that she began caring for the cats when they had to be moved from her son's large rural property and needed someone to tend to them. Nonprofit animal rescue group Rescued Paws helped to remove the cats from the son's land and was going to place them in foster care for eventual adoption. Kathy realized the cats were a clan and decided not to break them up, so she took it upon herself to provide an environment where they could stay together.
The cats are all spayed or neutered and have been vaccinated. When Humane Society of Cowlitz County animal officer Rich Falk visited in 2010, he said the cats all looked happy, healthy and well cared for, and noted that most were friendly.
The shelter is fenced, is reinforced with a mesh wire that looks like chicken wire, and has a large shade canopy and a mesh wire cover to keep cats in and other animals out. It is set up with places to climb, places to hide, and places to exercise or sit out in the open. There's a little building with beds and perches, which is heated and cooled as the weather dictates. The entry is secure, preventing cats from dashing out when someone enters. The day the reporter made her surprise visit, she noted that all the litterboxes were clean, and even turned the camera to the tidy boxes. Everywhere the camera turns is tidy and clean.
Kathy created a paradise for the cats and decided to devote her money and efforts to the animals' care. At least some of her neighbors wanted the sanctuary gone.
KATU was back in Kathy's neighborhood this week for a followup story as the complaining neighbors continue their efforts to get rid of the cats and the enclosure housing them. One neighbor in particular, Emilew Boe, made her complete distaste known both in the 2010 report and in the new one. Neither the KATU reporter nor animal officer Rich Falk noticed the urine odor that neighbors complain of. Emilew Bow hinted that she is forced to pick up feces from her yard, despite the fact that the enclosure is fenced and secure.
While the city has not yet made any move to close the sanctuary, it looks like there is trouble ahead. Below is the story from 2010, which includes a tour of the sanctuary and remarks from Kathy Perkett.  Below that is the new story, that includes more complaining from neighbors, and an update on local animal issues and an ordinance enacted since 2010.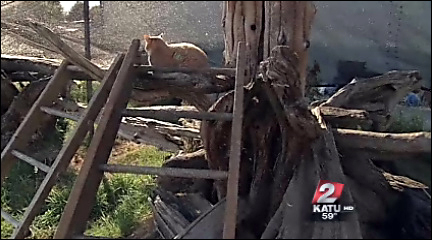 2010:
Behind the two doors of an air-locked gate is the cat enclosure Kathy Perket and her son built in 2008. Inside is 22 fenced-in felines, all living in a hand-made reserve.
Some neighbors, though, say it's a nuisance. Since Humane Society workers say there is no city code limiting the number of cats someone can own, those neighbors are trying to get city laws changed.
"This was a big family when we rescued them from my son's property – when he had to leave because of health reasons," Perket said, "and I could not break up the family."
The cats roam through tall grass, weave through a maze of driftwood and pounce on a jungle-gym-like playground before heading to their kitty bunk beds.
Inside "there's food and water; there's a heat lamp for the winter time and a fan and windows for the summer," Perket said. Outside "the cats climb and have fun and play."
Under a canopy of shade and chicken wiring there is even security from raccoons.
"I hung the bells here thinking when [raccoons] get on here it'll start ringing," she said. That way, the bells will frighten away the cat's food predators.
Covered below are rows of litter boxes, which Perket says she cleans daily.
However, her Longview neighbors say the smell seeps out.
November 21, 2012 update:
As Emilew Boe and other continue their complaints, the city considers its position on the sanctuary.
A case of cat hoarding at a Longview trailer last year prompted the Longview City Council to enact an ordinance in August of this year limiting the number of pets residents are allowed.  Longview Community Development director John Brickey told KATU,  "If we had like a kennel ordinance, we could regulate the number of cats and how they are kept to reduce the impacts to neighbors."
"Get some control over it and clean it up," said Boe in her pointed on camera remarks. "Force her to follow the ordinance."
Kathy Perkett could face misdemeanor charges if she does not dismantle the sanctuary enclosure. City Councilor Ken Botero's only comment on Wednesday was to say that officials are working on the situation.
Unlike in 2010, Kathy Perkett did not meet with the news crew when they visited the neighborhood again this week for the update. She sent KATU News the statement below on Wednesday night:
I built this enclosure in 2008. It was fully permitted by the city. For two years there was nothing wrong with what I was doing. People came over and looked at it. It was a nice friendly neighborhood. Then, things changed. Attitudes toward us changed. I have had many city officials come visit at my invitation and they have all said there is nothing wrong with what I have built, what I have done with what I am doing. Up to this point when they passed the ordinance, rescuers in Longview were proud of what they were doing. Now it punishes rescuers just as it punishes people who hoard, abuse and neglect animals it makes them want to hide in fear.
When I built this enclosure, I spent many thousands of dollars because I wanted to help animals.
I wanted to protect cats form neighbors and neighbors from the cats.
We have achieved that.
These cats give us joy, give us purpose.
Because of some differences of opinions between neighbors we became targets of harassment and we have lived under this harassment for two years.
It has not been fun.
The city knows and understands what is happening.
I believe the city wants to make this a fair ordinance for everyone.
Our goal is to make lives happier and safer and this ordinance does not allow for that.
We have to try to protect the animals from the very city that wants the animals rescued.
I have been speaking with the city and waiting for word back from them.
I am in a holding pattern.
Can't just pick up and move an enclosure thirty feet overnight.
I am the guinea pig and they are focusing on me when they should be focusing on people who hoard and abuse animals.
My cats are so well cared for, so fat and happy and loved.
.
.