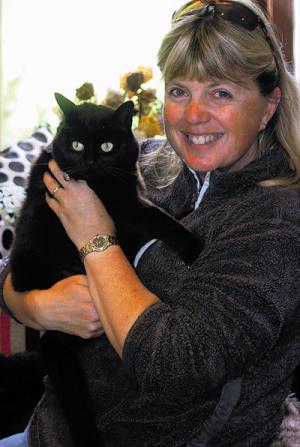 Liquorice showed up back home in her family's garden after a 3 year disappearance. Pet mom Karen Griggs wonders if some other family is missing her now.
Karen Griggs, of Wiltshire, UK, tells how her cat Liquorice recently showed up back at home after an unexplained three year absence, saying when she spotted a familiar looking black cat out in the garden one day last week she went out to investigate, saying a little prayer. The cat was indeed 8 year old Liquorice, though Ms. Griggs and her husband Jimmy do plan to take her to the vet and have her microchip scanned to verify it.
The Griggs' looked for their missing cat for about a month after she disappeared in 2008. She had been known to stay away for a day or two in the past, but never more than that, so the couple eventually gave up hope of ever seeing her again. Ms. Griggs wondered if Liquorice had been taken away on on of the many canal boats at the nearby Bradford on Avon Marina. She also wonders if Liquorice's disappearance has to do with her being affected by the death of the family's other cat, Jelly, about a month before.
The family dog, Solomon, is still with the family, and Ms. Griggs says it's wonderful to see the errant cat and the steadfast dog reacquainting themselves with one another.
Liquorice, who lived with the Griggs family from the time she was a kitten, seems to be in very good condition and looks like she has been well cared for, so Ms. Griggs wonders if she has been living somewhere with another family who may be missing her now.