.
Humane Officers helped a cat in distress Tuesday afternoon after getting a call saying she was in a small dumpster with a can stuck on her head.
Officials with the Fayette Humane Society in Washington Court House, Ohio responded to the scene to rescue the distressed cat in nearby  Jeffersonville after receiving the report.  The cat was out of the dumpster and on the pavement when her rescuers arrived. The officers carefully removed the can  and brought the cat to the Humane Society's medical department to be examined and restored with oxygen and fluids.
The unspayed cat is thought to be a stray who got herself into the predicament while scrounging for food. Her rescuers plan to have her spayed and to try find her a good home.
The Fayette Humane Society wrote about the rescue at Facebook on Tuesday, saying: "Today, Humane Officer Brad Adams was dispatched to Jeffersonville in regards to a cat inside of a small dumpster with a can stuck on its head. The caller stated that the cat was in distress. Before Officer Adams arrived, the cat had crawled out of the dumpster and into an alley way, according to citizens. Adams sedated the cat at the scene to make it relax and to lower its stress level before pulling the can away from its head. The cat was brought back to the humane society's surgery suite where Officer Danyel Bageant gave the cat oxygen and fluids."
Fayette Humane Society Director Dr. Lee Schrader is quoted at Buckeye Country 105.5, saying: "When this kitty has recovered from her ordeal, we plan to bring her into one of our programs where she will be health checked and spayed."
"We hope to find her the perfect home."
.
.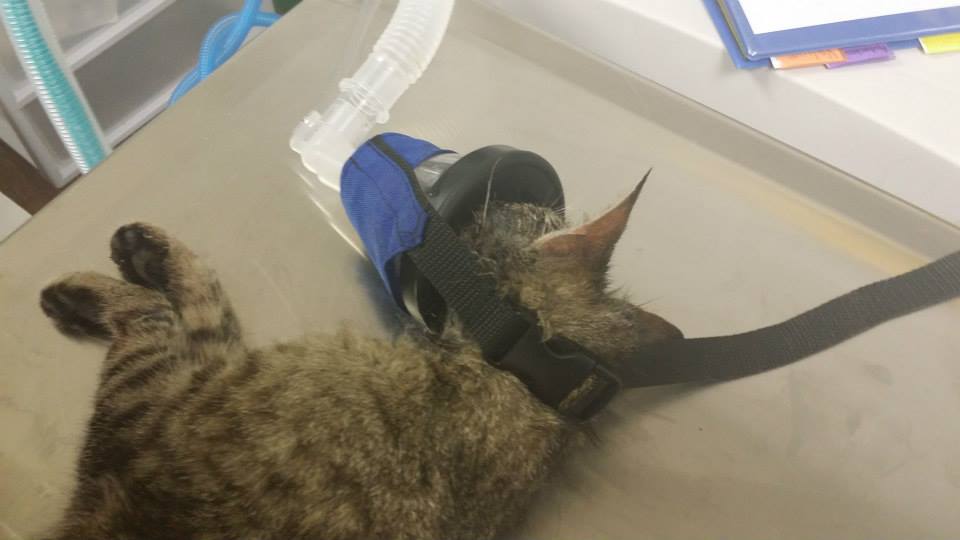 .
.