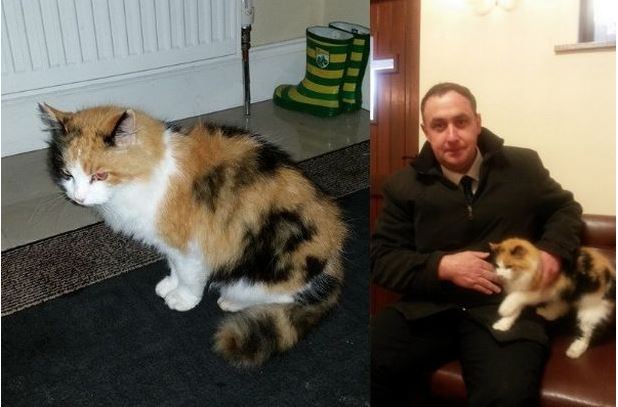 A cat living 12 miles away turned up and sat through the funeral of a man known to love cats.
Kieran Flynn of Flynn's Funeral Home in Castlemaine, County Kerry, Ireland posted a photo of the cat at Facebook following the cat lover's funeral, in hopes of finding kitty's family.
The cat showed up at the funeral home Wednesday afternoon in time for the ceremony for the cat lover, and remained throughout.
After the photo appeared at Facebook, kitty's family came forward to reclaim him and it was revealed the cat had traveled the distance of more than 12 miles from his home in Inch to Castlemaine before turning up at the funeral home.
Mr Flynn wrote at Facebook: "This guy turns up at Flynn's Funeral Home in Castlemaine, Co Kerry this evening and comes in and sits down for the duration of the funeral. Never before seen anything like this to happen.
"I know the deceased was a cat lover and maybe the cat was paying its last respects but I'm hoping that someone may recognise the cat as it is very tame and very friendly and obviously very well cared for."
"Please share and help find the owner."
Mr Flynn posted an update later, telling the rest of the story: "Cat has been reunited with his owner, turns out the cat had travelled from Inch to the funeral home in Castlemaine under the bonnet of a car!!!
"Decided to pop in and pay his respects as well, thanks for all the help spreading the word, Kieran."
Mr Flynn told Radio Kerry that the deceased man's family were astonished at the cat's strange appearance at the ceremony but found it a fitting tribute to their cat loving relative.