Marilyn mothered her own kittens and others during her time at a clinic.  She also adopted a tiny puppy struggling for warmth, whose life she may have saved. Happily, everyone has been adopted.
Marilyn was admitted as a stray, along with her three kittens, at the Mdzananda Animal Clinic in Khayelitsha, SA, a part of Cape Town. Shortly after, a tiny puppy was brought to the clinic when it was found wandering the streets on it own. The pup had to be treated for fleas, ticks and worms upon its arrival, but by the next day, she was hiding in a corner of her cage, shivering, refusing to eat, and facing a struggle to survive. Clinic staff tried hot water bottles, blankets and jerseys to warm and soothe the puppy but it continued to struggle.
Staff weren't sure how well the Mama cat would accept the little puppy, but felt that joining the little family of cats would give the pup it's best chance to survive. Marilyn accepted the pup, who staff named Lollip0p, right away. Her kittens warmed up to the pup after initially being a unsettled by the introduction of the newcomer.
Marilyn nurtured Lollipop as though she were one of her own, and the sweet little dog grew healthy and strong. Lollipop was adopted and lives at a horseback riding stable where there are a few other dogs.
After Marilyn nurtured her babies,  Lollipop, and some other kittens, Clinic staff decided she had done her duty and needed to go and live a good life in a loving home. Although she is a beautiful multicolored cat, clinic staff felt she had enough black in her coloring to put her at risk of facing lingering superstition. She was not available for adoption in the township, as a result. The clinic announced last week that Marilyn found a good home in the Cape Town suburb of Hout Bay and went home on April 12.
The clinic wrote of Marilyn when she was ready for adoption, " She is a very calm, sweet natured, loving, cuddly cat who has had enough of looking after little ones and is now looking forward to some freedom."  Now her work is done, and she can lead a life of leisure.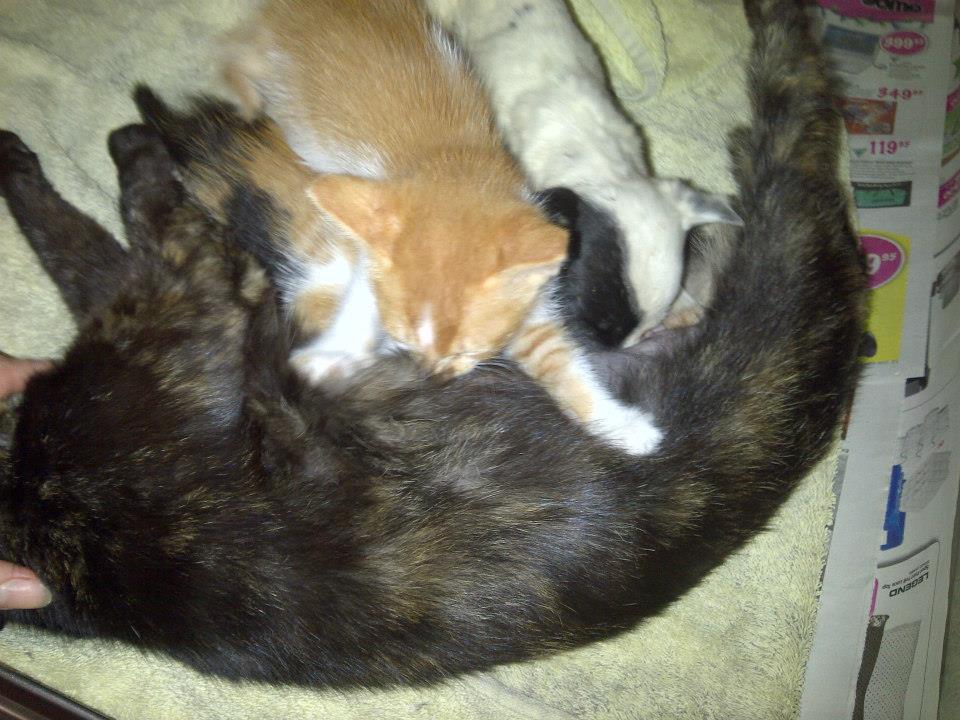 .
.
<via>