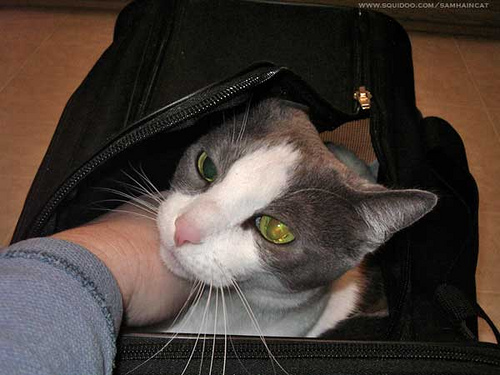 Photo: Flickr Creative Commons
Should pets be allowed to travel with their human in the cabin of an airplane?  The Canadian Medical Association recommends that all pets, with the exception of service animals, be relegated to the cargo hold.
Most Canadian airlines are adhering to the recommendation; however, Air Canada and WestJet continue to allow small dogs and cats in carriers, stowed under the passenger's seat.  Due to the number of people with sometimes life-threatening allergies, the Canadian medical community believes this is a dangerous allowance.
In 2009, Air Canada released its ban on in-cabin pets, saying that in its 70 years of operation, the number of serious allergy-related incidents has been minimal.  Many passengers are leery about placing their beloved companion in the cargo hold, along with the checked baggage.  This method of pet air travel isn't incident free either — in 2009 two pugs died on their journey from Mumbai to New Delhi because the pilot forgot to activate the air circulating system.  Now the airline is being asked to pay the dogs' owners $3,260.
Representatives from the airlines say they make every reasonable effort to ensure passengers with allergies be moved to seats as far away as possible from traveling animals.  Opponents of the ban even suggest airlines offer "pet-free" flights as an option for these sensitive passengers.  As of now, Air Canada and WestJet have no plans to change their policy on allowing pets in the cabin.
In the US, airlines are left to determine their own policy on pets traveling in airline cabins, although the American Humane Society recommends pets avoid air travel, if at all possible.