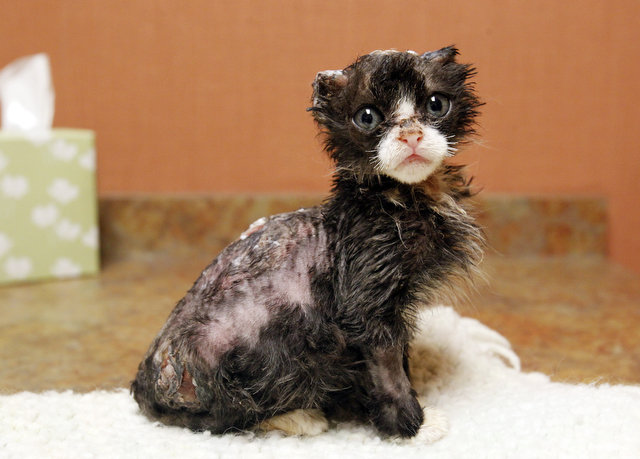 The little kitten who looked like a blackened wreck last week is both looking and doing better after several days spent getting both love and medical care.
Justin was found severely burned on Thursday, April 26, just under a week ago. The tiny, intentionally injured 5 week old baby was found in the Kensington section of North Philadelphia by a good Samaritan. The Pennsylvania SPCA is looking for whoever burned the kitten, and there is now a substantial reward, offered by HSUS. The Animal Alliance of New Jersey  is caring for Justin, and has him receiving medical attention at Crown Veterinary Specialists, an emergency and specialist vet.
We covered the story in Burned Kitten is Recovering as PSPCA Seeks Help Finding the Abuser.
Justin had been doused with an accelerant and lit afire. The kitten was still burning when found by his rescuer, who smothered the fire with a jacket.
He is responding well to treatment, is beginning to show some spunk, and is expected to make a good recovery, though he is described as still not completely out of the woods by Animal Alliance Executive Director Anne Trinkle
Animal Alliance is gratefully accepting donations toward Justin's care at PayPal.  His medical bills are expected to run to $5, ooo or $6,ooo. If the link here does not work, you can go to the organization's website.
Animal Alliance of New Jersey is providing updates on Justin at their Facebook page.
.
Photos and video via Ed Murray/ Star Ledger