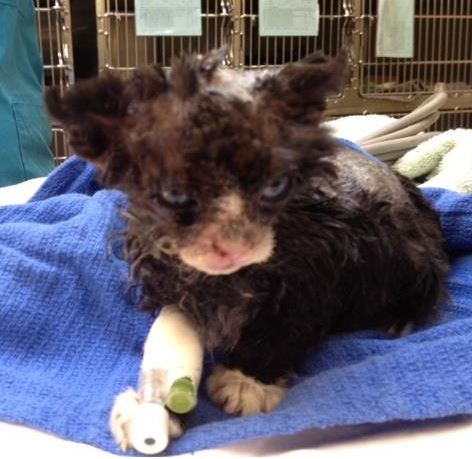 UPDATE, April 29: There is now a $5,000 reward for information leading to the identification and arrest of the abuser.
This poor kitten's story was first in the news on Thursday, when the PSPCA released an appeal to the public looking for help finding the person or persons who burned him. The story has gotten a lot of coverage in the Philadelphia news market, and has gotten some coverage elsewhere.
The tiny, intentionally injured 5 week old baby was found in the Kensington section of North Philadelphia on Thursday by a good Samaritan. The Pennsylvania SPCA is looking for whoever burned the kitten, and the Animal Alliance of New Jersey is caring for him, and has him in care with an emergency and specialist vet.
We decided to wait for word that the kitten was improving before sharing the story, and were pleased to see today that his vets say he (or she) is expected to recover.
The kitten was variously being called Justin and Wendy in early reports, but is now determined to be a boy, and is named Justin.
Below is the initial news release from Thursday:
PSPCA News: Information Sought Regarding Kitten Set on Fire
Philadelphia — April 25, 2013) The Pennsylvania SPCA is seeking information regarding a kitten found Thursday on the 3100 Block of F Street near McPherson Square Park that appears to have been intentionally set on fire.
"The black and white male kitten is approximately 4-5 weeks old and is burned over a third of its body, primarily on the head and back," said George Bengal, Director of Law Enforcement. "This is a horrendous act of cruelty to inflict on a helpless animal."
According to Bengal, the Pennsylvania SPCA was notified by local citizen who came across the injured animal. A humane law enforcement officer brought the kitten back to the Pennsylvania SPCA headquarters where veterinarians administered medical care and pain medications. It was transferred to a rescue partner to receive intensive care for its injuries. Veterinarians are hopeful that the kitten will survive.
The Pennsylvania SPCA is obtaining a search warrant to obtain video footage from a local business in the vicinity. Anyone with information should call the Pennsylvania SPCA Anti-Cruelty Hotline 866-601-SPCA.
##
PSPCA wrote Saturday evening at their The Official Pennsylvania SPCA Page at Facebook:
"Update on "Justin", the burned kitten – Animal Alliance of New Jersey has taken Justin into their rescue and is providing much needed veterinary care. According to his doctor he is stable, and, in time, is expected to make a full recovery."
Animal Alliance of New Jersey is located in Lambertville. They immediately sent "Justin" to Crown Veterinary Specialists, where the kitten is getting care.
An update from Friday said the "Kitten is named "Wendy" after Dr. Wendy Ross at Crown Vet. She made it through the night and is doing reasonably well considering the extent of her wounds. She is on pain meds, IV fluids, antibiotics, and is receiving round the clock care on her exterior wounds."
Donations for vet care should be directed to Animal Alliance of New Jersey.
Animal Alliance of New Jersey will give updates on the kitten at their Facebook page.