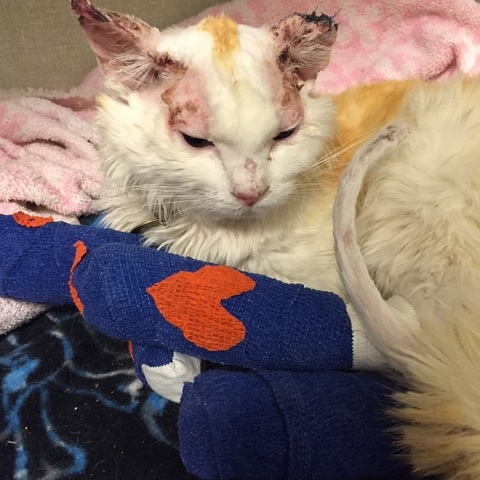 Sometimes, matches between people and cats are just meant to be. That's the case with Phoenix, a cat who suffered burns all over her body, and Gloria McKeever, his adopter who had been burned in a cooking accident.
Phoenix had been found near an apartment laundry room, covered with burns. The worst burns were on her head and ears, and Phoenix was brought to the Dumb Friends League of Aurora, Colorado. There she was treated by the League's chief veterinarian, Dr. Jeff Fankhauser. Dr. Fankhauser nursed Phoenix back to health for two months, and then Phoenix was ready to go to a new home.
When Gloria McKeever heard about Phoenix's story, she felt that the two of them were kindred spirits. McKeever had suffered severe burns herself, has scarring, and underwent plastic surgery. McKeever's husband died in December of 2015, leaving her with the feeling that she needed to fill a void in her life.
Now McKeever can put her focus into Phoenix's rescue. She's renamed Phoenix Rosebud, and the two seem to be meant for each other.