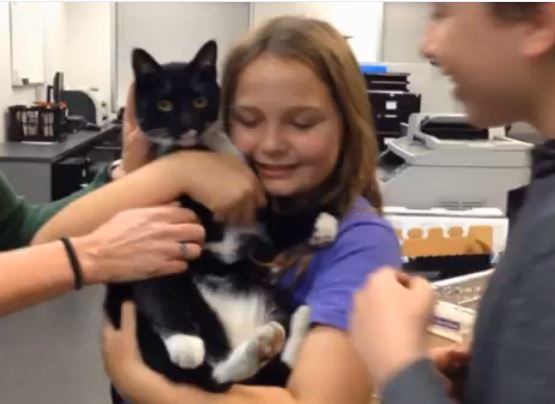 Buddy the tuxedo cat had been missing for four days when he was rescued from a very high rooftop by a special rescue team. He was reunited with his family after he was scanned for a microchip.
Buddy was rescued by SMART, the City of Los Angeles Department of Animal Services Specialized Mobile Animal Rescue Team. The SMART team is a group of 10 Animal Control Officers and a Registered Veterinary Technician who are dedicated to the urban search and rescue of animals in distress. The team members are passionate about animals and put their lives on the line to rescue animals because they know they that animals are very important family members.
SMART says: "Buddy was missing for over 4 days. A neighbor spotted him atop a two story rooftop and called SMART. [Team members] Nav and Mr. Fox arrived and set up a 28 foot ladder to attempt the rescue. Buddy was a bit scared but soon trusted and welcomed Nav.
"Buddy had a micro chip and was reunited with his family later that night."

Watch the rescue and the reunion:
.
.
.