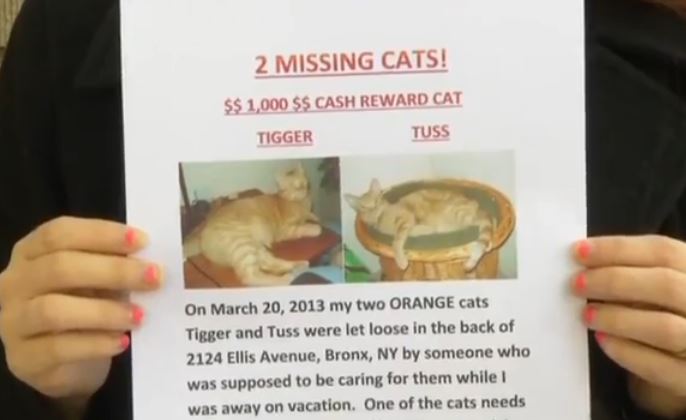 A Bronx, NY woman is still searching for her two cats, who were dumped in an alley by a pet sitter two months ago.
Jennifer Ingber entrusted her two cats,  Tigger and Tuss, with a friend of her husband when the couple went on vacation in March.  When Jennifer returned home her cats were gone. Pet sitter Rafael Lugo initially said the animals took off, but surveillance video shows him dumping them in an alley behind his apartment.
Jennifer now spends her days traversing Ellis Avenue going door-to-door asking if anyone has seen her missing pets. According to Jennifer's missing cats flyer, one of the cats requires a special diet and may die without  proper feeding. The cats were indoors only and were not well equipped for life on the street.
Bronxdale resident Rafael Lugo, 59, is accused of abandoning the two cats. He is charged with two counts of abandonment and is facing two years jail time if found guilty. The ASPCA said a second person, Robert Rames, was arrested today for allegedly helping Lugo dump the two cats.
Anyone with information on the whereabouts of the two cats is asked to call the ASPCA at 877-843-2772.