Independence Day was rehoming day for Boots, the cat whose life was saved by trust officers at Fifth and Third Bank earlier this year.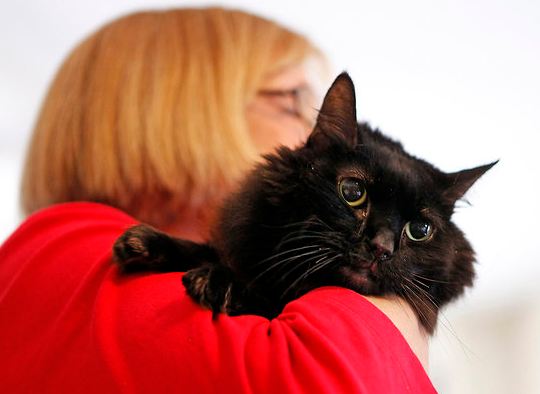 Animal lover Georgia Lee Dvorak, of Berwyn, IL stipulated in her will that any cats outliving her be euthanized after her death, yet left her estate to animal causes.
Trust officers at Fifth and Third Bank handling the estate felt uncomfortable having 11 year old Boots, the only remaining cat, euthanized so took the matter to probate court after finding an alternative arrangement for her care.  Lawyers for the bank argued that it would violate public policy to have a pet put down when there was a suitable alternative. The court accepted the argument, and arrangements were made for Boots to go to Chicago no-kill shelter Cats-Are-Purrsons-Too.
While Boots could have lived out her days at the homey shelter, 27 people applied to adopt her and Cats Are Purrsoons Too went about the process of selecting a home.
Missouri resident Diane Maxwell was chosen to provide Boots with a safe and loving home. Diane is cousins with Fifth Third Senior Vice President and personal trust director Jeff Schmidt, who was instrumental in saving Boots and securing a place for her at the shelter. Regardless of the family connection, she underwent a vigorous screening process before being selected to adopt the cat.  The good will between the shelter and the bank personnel who couldn't bear to see an innocent cat killed no doubt contributed to Diane's selection, though.
Diane traveled to Chicago and picked Boots up today. Now Boots gets her truly happily ever after and Cats Are Purrsons Too can take in another cat in need.
See also Bank Saves Cat's Life From Euthanization Stipulated in Terms of Owner's Will and Boots, Cat Saved From Death By Bank, Goes to Her New Home
<via>