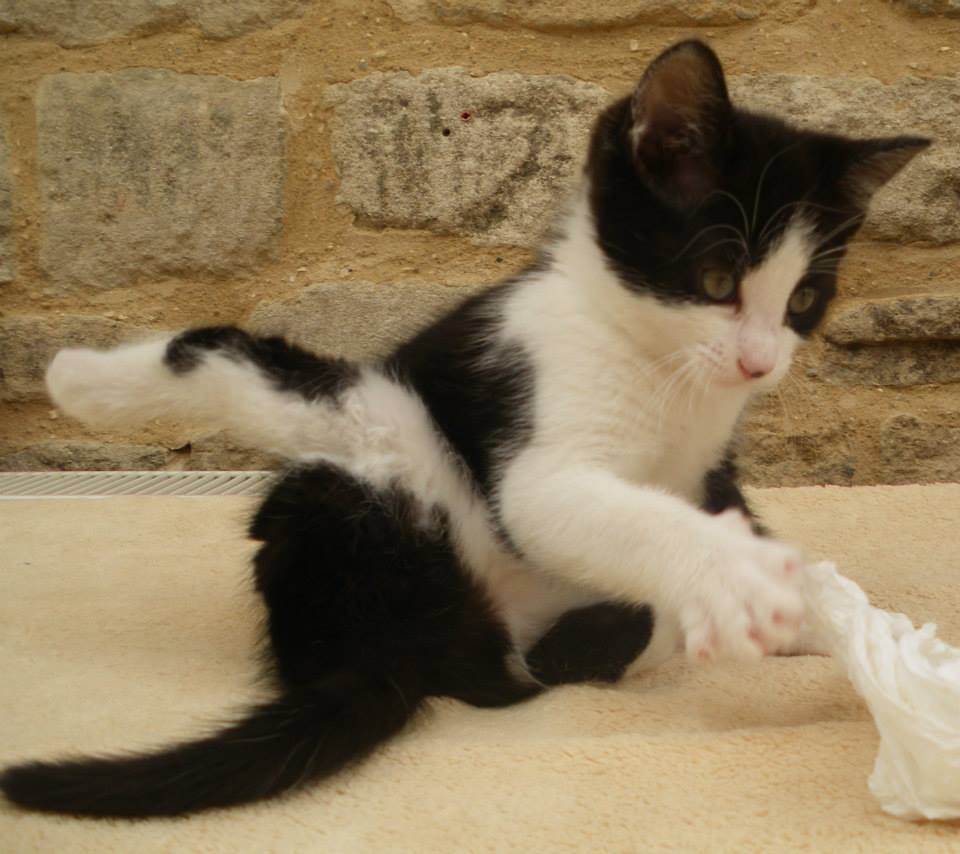 .
The adorable Bonnie Kitten was born with a severely bent leg, but that does not get her down. She will probably be a tripod when she is placed for adoption; meanwhile, she is the star at her own Facebook page.
Bonnie Kitten was born with a deformed back leg at Cats Protection UK's Sleaford and District Branch on June 2, 2014.  Bonnie will need a major operation when she is a bit bigger, which her caretakers think will probably be an amputation. She is an otherwise lovely and healthy little kitten who is full of mischief and energy.
Bonnie has a Bonnie Kitten Facebook page that is dedicated to sharing her journey from 8 weeks old until the time she goes to her forever home. The page shares posts about Bonnie along with lots of photos of the adorable little girl.
Today Bonnie was featured in a story in the Sleaford Target, where her foster petmom Karen Sheldon says: "When she runs her leg just sticks straight out.
"I've never seen anything like it before. And she had a few logistical problems with using her litter tray at first."
"This seems to be an isolated abnormality because she is full of beans, she's extremely lively – she's actually quite naughty.
"Our branch of Cats Protection already spends around £1,500 a month of vets fees and we will pay for Bonnie's treatment, but we rely entirely on local fundraising.
"We are not a euthanasia society. We would not put a well cat down."
"We know that once she's had surgery she will be perfect," said Karen. "I've had experience of cats with three legs and they get by just fine."
Sleaford cats Protection is accepting donations to help with Bonnie's surgery and has invited anyone who wants to give Bonnie a good home to call the branch. Bonnie is 8 to 9 weeks old at present; her Facebook page was started last week.
.
See Bonnie play in these two short videos:

.
.

.
.
.
.