Pets for Patriots does amazing work bringing together veterans and companion animals such as in the case of the recent adoption of a blind kitten by an airman.
Municipal shelter, Anne Arundel County Animal Control, joined Pets for Patriots in 2016, offering fee-waived adoptions and a free microchip for veterans who adopt through the partnership program. Anna, an airman, enjoyed visiting the shelter, her own dream for after her military career to open a rescue.
"There are so many animals being killed in shelters because people don't adopt enough. I want to reduce the animals that get killed for no reason," Anna told Pets for Patriots. "I cry over roadkill, so I want to help animals who get destroyed because they can't find a home."
Anna had heard about a kitten at the shelter that was missing an eye, but it was adopted by the time she was able to make it down there.  Realizing she had an interest in adopting an animal with special needs, the staff told her about a blind kitten in foster care. It only took a look one look at the photo for the airman to fall in love.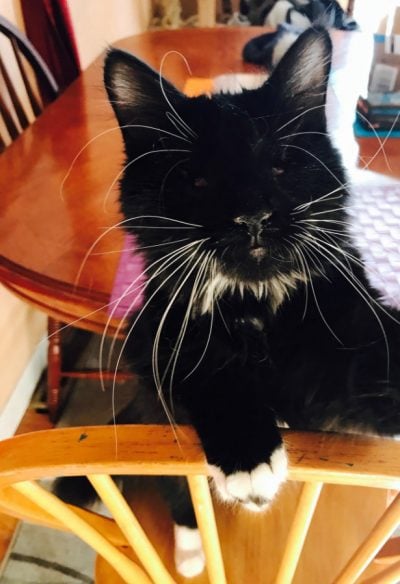 "He just stole my heart there and then. He didn't act like he was blind. This cat just acted like, 'so, I'm blind…moving on.' It's such a cool attitude to have and he's never lost that attitude."
Captain Jack Sparrow, as the kitten is named, joined her other five companion cats in Anna's home, not letting his blindness get in the way of his growing confidence.
As to Pets for Patriots, Anna says, "I feel blessed to be part of this program and feel grateful people take such interest. Like the interviews and that people provide gift cards, and discounted veterinary services for animals with special needs. I feel like it's a win-win for both animals and veterans."