'
The day after Thanksgiving, adopters lined up for the Dakin Pioneer Valley Humane Society's Dakin $5 Black Friday Felines special adoption event in numbers one might expect to see at a big box store or a mall. The line outside the animal organization's Springfield, Massachusetts location formed early, stretching far from the door.
Many DPVHS volunteers pitched in along with staffers to help keep things running smoothly, as adopters selected their new kitties and made the adoptions. Early on, it became apparent that there were more adopters than cats, though the shelter had been full up with them. To meet demand and get more cats into homes, DPVHS contacted the Thomas J. O'Connor Animal Control and Adoption Center, also located in Springfield, and took transfer of 40 of their cats.
By the end of the day, all of the cages were empty, and 167 cats had found homes. 136 cats were adopted in Springfield, and the remaining 31 found homes through DPVHS's Leverett facility.
Staff and volunteers were all elated at the huge success of the event.
DPVHS posted at Facebook, saying "Kudos to the entire Dakin team today; including our relentless and amazing volunteer crew, the admin staff that jumped in to help wherever they could, the animal care and vet services team who kept everyone medically updated before heading home and all of the adopters who despite the long lines kept their smiles on and hearts open. Mostly, the Adoption Staff – who no doubt have just lived through their busiest day in Dakin history. Hopefully, everyone is home now, feet up, enjoying a well deserved ice cold……..carbonated beverage. (or a tasty 21+ treat). Sleep well friends, we did it."
Candy Lash of the Dakin Pioneer Valley Humane Society spoke to 22News, commenting on the huge and unexpected turnout, saying [it] "Warms our hearts, because the people are here to do something really good- to open their hearts and help an animal in need."
Exceptionally mild weather helped lift spirits and make the wait in line more pleasant.
Raw video from Friday shows part of the line waiting to adopt, along with a peek inside the facility.
Black Friday special for adopting cats at DPVHS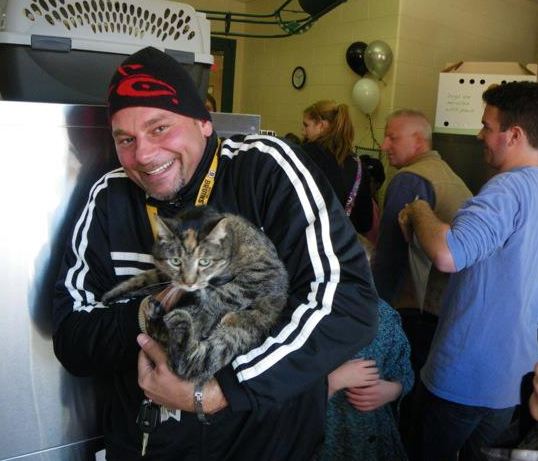 .
.
.
.
.