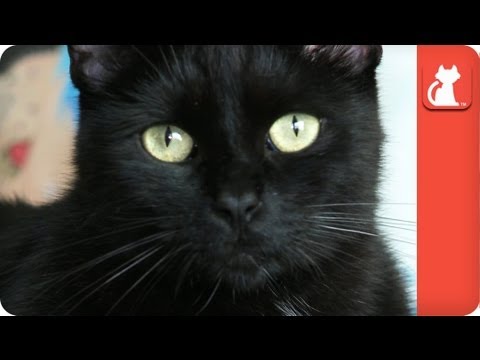 Shelters may or may not allow the adoption of black cats for Halloween, but the bigger issue is simply the adoption of black cats any time of the year. Black cats have long been associated with both good and bad luck, depending on where you were raised and who told you what folktales.  For the black cat, in general, its color of fur can make life difficult and unlucky, particularly sitting in an animal shelter waiting to be adopted.
Historically, a lot of attention is paid to black cats in the month of October.  Being associated with witches or the embodiment of returned souls gives them a bad rap which can be further compounded with concerns many shelters have over these animals being used as accessories or for immoral purposes in celebration of Halloween.  Sadly, there are instances of black cats being used in pranks or rituals.  For those reasons some shelters have ramped up the vetting process or simply will not adopt them out during the month for fear of abuse or being returned after the holiday.  Still there are many shelters that use October as an opportunity to highlight their black occupants.
In a CNN.com article from October 2014, Samantha Shelton, president and CEO of the largest no-kill animal shelter in Georgia, Furkids, remarked that for all the cats they have adopted, black cats are left behind.  Some say this it is because their dark fur makes them disappear into the backs of enclosures, and, that in spite of their sleek, glossy appearance, they simply aren't as attractive as other colored animals.  Interestingly enough, cats and kittens that are white, while having a better adoption record than their black counterparts, are also not selected as often as the tabby or calico with which they share space.
Photographer Casey Christopher, a volunteer at West Los Animal Shelter in Los Angeles, has made it a personal mission to take pictures and highlight these wonderful animals.  She has great concerns after noticing how many of the available cats and kittens were black.  The West Valley branch alone was housing 71 cats, of which 35 fell under the criteria of being black either in whole or part.  That is both significant and heartbreaking.  Christopher hopes her pictures will bring light the attributes of these beautiful, personality-filled felines.
Gainesville Pet Rescue in Gainesville, Florida, is offering a discount this month on all black animal adoptions.  Stephanie Younis, a shelter assistant at GPR, said she has noticed that black cats and dogs are often overlooked during the adoption process.  What is of note, however, is many shelter black cats are often particularly outgoing and social  as explained in an article at Petfinder.com specific to black cat adoption.  Black cats are often left in shelters for dramatically longer than other colored animals.  Staff and volunteers will have find a fondness for those left behind and, in turn, shelter black cats can be exceptionally affectionate and loving from all the care and attention received, making them perfect for adopting.
While there are many that will hold superstition close, the truth is, as with any colored kitten or cat, black cats are equally lovable and looking for a forever home.  Check your local shelter to see if they are permitting and for more information about adopting a very special new family member this month.  Could be a black cat may be the luckiest way for you to celebrate Halloween.