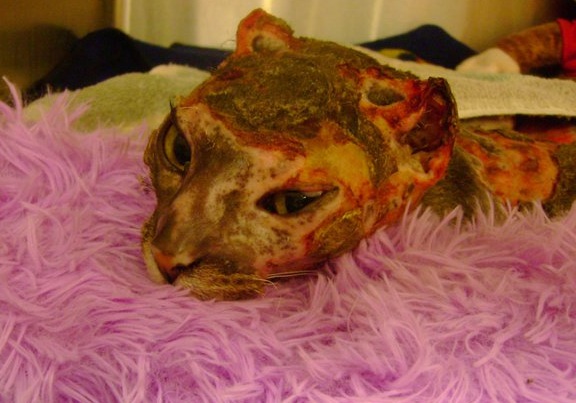 Bernice, the burned kitty on the mend, made the news last night and we've got the video. Otherwise, she continues to improve and heal.
Here's Bernice, looking pretty smooth and bare, but that's actually good; she recently had some dead tissue removed to expose the healthy tissue and help it heal.
Wisconsin's WBAY abc2  television news ran a feature last night on Bernice, her progress and how her story has reached the hearts of people from as far away as Australia and the UK.
As many readers know, Bernice was found severely burned last month in Oshkosh, WI by a good Samaritan and taken for care. She was made the ward of Oshkosh Humane Society and receives medical treatment and lives at at Animal Hospital of Oshkosh, where the staff has become her family.
The kitty that, according to the news report, was initially given a 5% chance of survival is progressing remarkably well and winning hearts and supporters in the process.
The video shows Bernice, the same cat who was cocooned in wraps just a couple of weeks ago, up and walking around. It is still a bit painful to watch her as she walks but her strength and spirit show through.
As the news story notes, over $10,000 has been given in donations so far for Bernice's care.
_____

_____
It is still not known how Bernice received her injuries. There is a $500 reward for information.