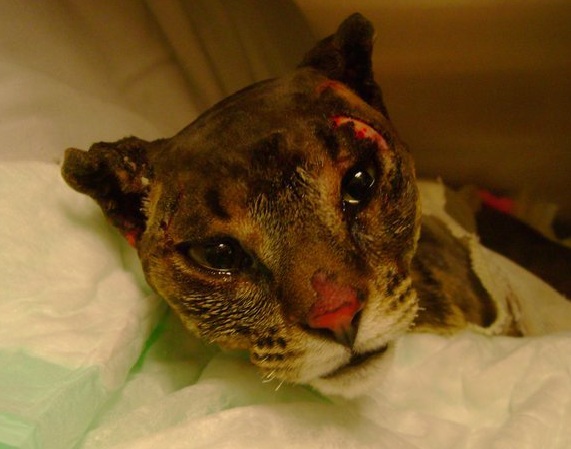 Bernice was in pretty rough shape after being found last week with burns over 40% of her body, but she's a determined little fighter with a strong spirit. The community of Oshkosh WI, and the greater community of animal lovers at large are pulling for her and sending love, and prayers, and donations for her care.
Somebody, some good Samaritan, found Bernice badly burned and in need of help last Monday afternoon in Ohskosh WI. Since then she has been in care of the Oshkosh Area Humane Society and is staying at the animal hospital of Oshkosh, where she remains a critical care patient, though she is showing good signs of improvement, such as regaining her appetite and trying to move. She also is showing a loving personality in her interactions with hospital staff.
Upon her discovery, Bernice was rushed to receive immediate treatment by volunteer veterinarians Diane Grede and Heidi Burnett at the hospital. While the circumstances of Bernice's injury remain unknown, the hospital released a statement saying "No matter how the cat was burned it is most probable it was at the hands of a humans."
Bernice receiving care after she was discovered with severe burns.
As of last Saturday, five days after she was found, the hospital said this in response to all who wanted an update on the cat's progress: "Just a quick update on Bernice…she's definitely hanging in there! She's begun to have some interest in food, though since it's so hard for her to move we've still been mostly force feeding. So glad she's got the desire to eat though! She's meowing and purring and loves to have her head pet…this little girl is a lover (and a fighter), that's for sure!!"
We were most encouraged, though by this TV news video footage from last Friday, which sounds yet more upbeat and hopeful. Naturally, we join all those who send their best wishes for this cat who may have been intentionally harmed.
As with most high-profile cases,  the Humane Society has received numerous offers to adopt Bernice. They say it is too soon to make arrangements for her eventual adoption and encourage all those who wanted her to open their homes and hearts to one of the many other thousands of cats and kittens at shelters who are looking for homes.
Anyone interested in making a donation is advised to call the Oshkosh Area Humane Society at (920) 424-2128 or to donate on their website: www.oahs.org . Otherwise, call the Animal Hospital of Oshkosh at (920) 235-2566.
Authorities are asking for the public's help with information on what happened to Bernice. She was discovered on Monday, July 11 at the 1800 block of Hazel St. in Oshkosh late in the afternoon. Anyone with credible information is asked to please contact either the shelter at (920) 424-2128 or the Oshkosh Police Department (920) 236-5700