Milo was profiled as the Intruder Cat in Little Cat Diaries, a followup to The Secret Life of the Cat. The mystery stray turned out to be a family's missing pet, and now he is back home.
A mystery 'Intruder Cat" piqued the interest of researchers and villagers alike when he was observed visiting resident's homes and eating out of their cats' food bowls during a week long study of the behavior of 50 domestic cats in the village of Shamley Green in Surrey, UK  for the BBC Two Horizon documentary The Secret Life of the Cat, which premiered on June 13 of this year.
The Horizon team worked with experts from the Royal Veterinary College and Lincoln and Bristol Universities as they used GPS collars and cameras to track the village cats and their comings and goings as part of what the BBC calls "one of the largest ever research projects into domestic cat behaviour."
Unlike other recent studies made to support the cats-as-killers position, the Horizon program instead suggests that cats are becoming increasingly domesticated and disinterested in hunting for the most part. Only one Shamley Green cat hunted seriously. Others made the occasional kill, while most were content to sit out in their own gardens, and others had no interest in going outside.
One surprising observation that supports the notion that cats are losing interest in hunting as their needs are otherwise fulfilled, is that some village cats are creeping into others'  homes through the cat flap and eating out of the cat bowls.  Residents said they had no clue they were being visited until cameras captured the cats in the act.
"Intruder Cat" was observed visiting a minimum of two village homes to eat, and was seen marking the inside area near the door in one home.
The documentary crew set out to investigate Intruder Cat and brought in a pet detective agency to help. The original plan was to trap the cat and get him vetted and neutered, if necessary, then turn him loose on his familiar turf. When one resident expressed interest in adopting the presumed stray, she got advice on helping him settle in to her home, which he'd been visiting for meals.
Posters put up with the distinctively marked long-haired dark gray and white cat brought about a surprising turn of events, when his owner surfaced.
As told by Nick Edmondson in Get Surrey online, the intruder is actually Milo, who disappeared from his Bramley home, where he lived with Lisa Lloyd and her daughter Tyler, 11 months ago.
Lisa said in the article, "We saw the poster and knew it was him immediately. He has some very specific colouring and we couldn't believe it.
"We hadn't seen the documentary, so we had no idea and it was mortifying when we did see him making his way into other people's houses.
"He was Tyler's cat, but both her and her brother Nathan, who is 16, were really upset to lose him. You just don't know what has happened, but you don't want to think the worst.
"It was great to see that he was actually alright and to get him back home. We have never had a cat go missing, but certainly didn't expect him to become a TV star."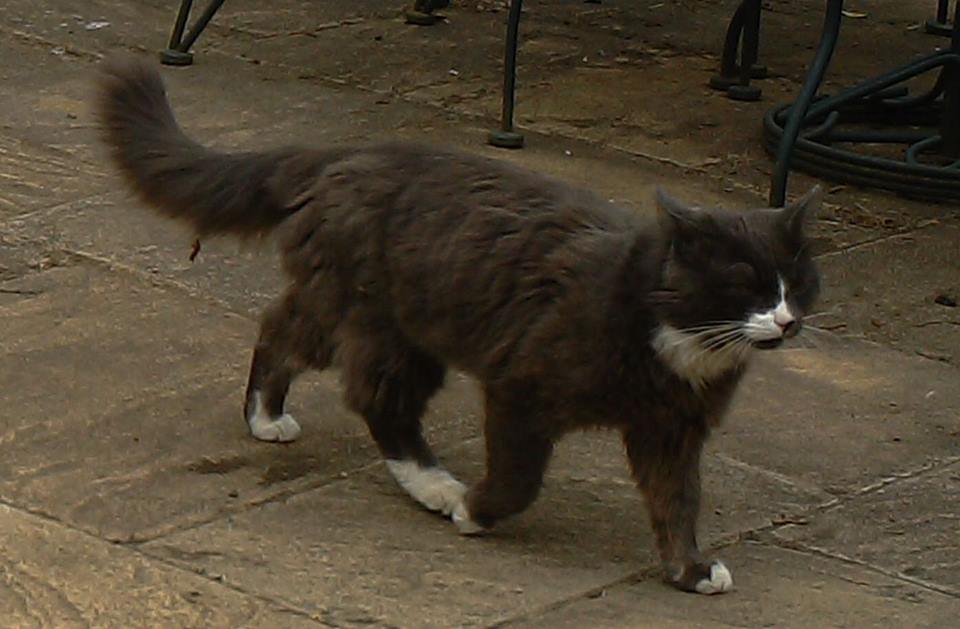 The Pet Detectives wrote at Facebook on June 25:
"We have some good news about the stray cat we have been tracking in Shamley Green, as seen in the BBC Horizon programme 'Little Cat Diaries'. We have located his owner who lives in a village about 3 miles away. His name is MILO and he went missing without a trace in August 2012. This means he has been fending for himself for 10 months and through one of the coldest winters on record. It just goes to show how capable cats are at surviving without their owners. We have now introduced a cat trap and propose to trap him, get him to a vet and reunite him with his owner as soon as possible."
As noted by The Pet Detectives, Milo, then known as Intruder Cat, was one of a few cats featured in a Horizon followup program, Little Cat Diaries. The mystery intruder's story is told in some depth in the program. He was not included in the original documentary.
Below is the Horizon Little Cat Diaries episode that profiles a few of the cats who stood out as researchers put together The Secret Life of the Cat. 
The Intruder Cat's story begins at 5:31 – 11:07, and is brought back at 15:17 – 18:22, and again at 26:43 to 28:24.

Note: If you do not want to see the portion of the program that profiles the village's most prolific killer cat, skip directly to 5:31.