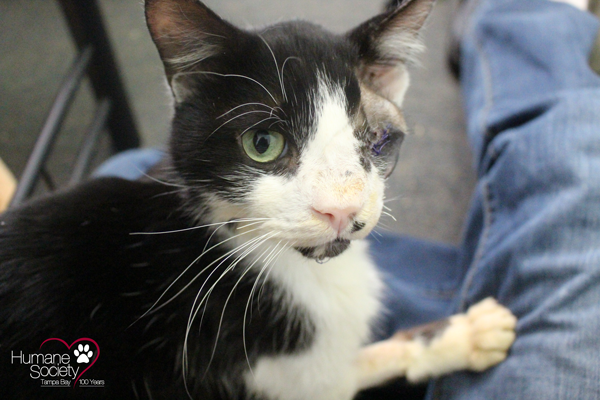 In light of recent developments in the custody battle for Bart, the Florida cat known as the Miracle or Zombie cat who was buried alive in a shallow grave and then dug himself out and returned home, being discovered in a neighbor's yard, the Humane Society Tampa Bay posted a Q&A "UPDATE!" to the Miracle Cat Comes Back From The Grave page at their website, which is devoted to Bart's recovery and the ongoing story surrounding his case.
As Bart recovers from surgery to remove a badly damaged eye and a procedure to wire his broken jaw, the little feline who went through a hellish experience is healing, getting stronger and letting his sweet, friendly personality shine through. He looks less like a living horror and more like a handsome cat on the mend, has gone from a feeding tube to eating on his own, and enjoys the company of veterinary and humane society staff, along with visitors. His caregivers say he has become a little cuddlebug.
As has been widely reported, Humane Society Tampa Bay, which is caring for Bart and has provided him with medical care, decided not to give him back to his owner after learning more about the circumstances that saw him buried alive and then suffering after his return, as well as other details of his home life. Bart's owner, Ellis Hutson, is suing the Humane Society for custody, and the Humane Society has asked the county's  animal services to investigate the case.
The Q&A, reprinted below, addresses questions the public may have on the case and refutes allegations made by Hutson and his friends.
The Humane Society Tampa Bay writes:
February 16, 2015-Bart is thriving under our care, eating well and gaining weight. He is enjoying more mobility and gets frequent visits from staff, volunteers and visitors. He loves the attention and has become quite the cuddle bug.
We know there are questions about Bart's situation and future stemming from the pending lawsuit with Mr. Hutson. Because this is an open case, there are things about which we cannot go into detail. However, we would like to try and answer some of the most frequently asked questions in the best way we can.
QUESTION 1
Why did you change your mind about returning Bart to his owner? We received information that the owner was actually present when Bart was buried and there was a witness claiming the cat was still alive. In addition, we discovered that Bart was not brought to us immediately after he crawled out of the grave. He suffered from severe injuries for at least 2-4 days in the care of his owner before the medical treatment was sought; this is against the law.

QUESTION 2
Hillsborough County Pet Resource Center is stating that they have not filed cruelty or neglect charges against the owner. Is that true? Although no charges have been filed to date, we are still hopeful that the county will file charges based on evidence of violation of the following Hillsborough County Ordinances:
Sec. 6-21 Rabies Vaccination Requirement
Sec. 6-22 Registration & License tags Requirement
Sec. 6-24 Display of Tag Requirement; Cat Identification
Sec. 6-25 Humane Treatment of Animals
Sec. 6-26 Cruelty to Animals
Sec. 6-28 Confinement to Property; Dogs and Cats at Large
QUESTION 3
Is the Humane Society of Tampa Bay using Bart to "line their pockets" (raise money)? The Humane Society of Tampa Bay is a Charity Navigator 4-Star Charity for five years running. This is the highest rating possible for fiscal responsibility and transparency. Only 3% of money we receive goes towards administrative costs (including salaries). No one's pockets are being lined.
Most importantly, all money we have received as a result of Bart's story has gone into a restricted fund called "Save-A-Pet Medical Fund" to pay for Bart's medical care. This money can only be used to cover the cost of medical care for pets, like Bart, whose owners are unable to afford veterinary treatment. So, in actuality, the money we've raised is being given right back to the community by offering free medical treatment to pets in need.
In 2014 we provided $53,413 in financial assistance from our Save-A-Pet Medical Fund for the treatment of 261 dogs and cats.
QUESTION 4
When will the issue of Bart's custody be resolved? As of today, February 16, 2015, a court date has not been set. We will announce the date once it is determined.
QUESTION 5
How can I adopt Bart? If you are interested in adopting Bart, please send an email with your contact information to [email protected] and we will add you to the list. Please understand that the list of potential adopters for Bart currently stands at more than 100 individuals.