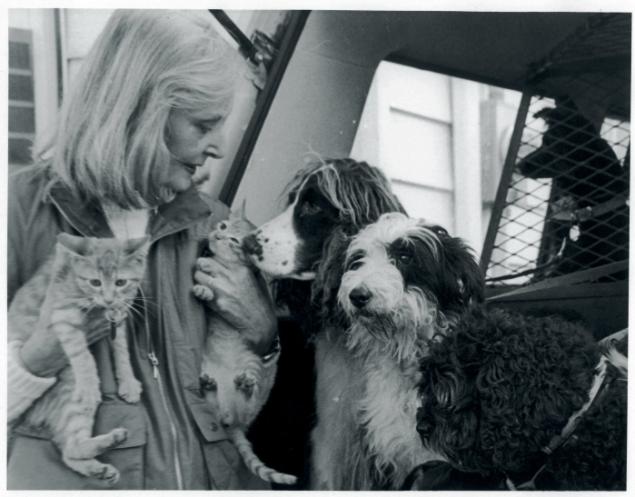 North Shore Animal League, of Port Washington, LI, wrote in recognition and remembrance of a major figure in the reformed shelter movement yesterday.
North Shore Animal League America Mourns the Loss of Its Longtime Chairperson Elisabeth "Babette" Lewyt
The World's Largest Rescue and Adoption Organization Ensures Mrs. Lewyt's No-Kill Lifesaving Legacy Continues to Live On
December 11, 2012 (Port Washington, NY) – The rescue community has lost a pioneer in animal welfare.  North Shore Animal League America is deeply saddened to announce the passing of its Chairperson of the Board, Elisabeth Lewyt.
Devoted to the no-kill rescue movement, Sands Point, NY resident Elisabeth Lewyt, has been involved with the Animal League's lifesaving mission for over five decades.  In the 1960's, Mrs. Lewyt, fondly known as Babette, heard about the struggles of a small community shelter that had fallen on hard times.  Babette wanted to do all that she could to help the shelter with its no-kill mission.  A firm believer in the no-kill philosophy, her involvement, along with her husband, inventor and entrepreneur, Alex Lewyt, became crucial to the development of innovations in animal welfare.
Babette's vision and desire to save the lives of innocent homeless animals created the foundation for North Shore Animal League America to begin a new era in the humane movement.  She gave deserving dogs, cats, puppies and kittens a second chance at life – it didn't matter to her whether they were purebreds or mixed breeds, she valued every life.  In the earlier years Mrs. Lewyt was seen driving throughout the community with her rescue van, saving animals from municipal shelters where they were slated for euthanasia.  Rescuers recall that even when the van was packed with animals, she would never turn down a request to help save another life, saying, "There is always room for one more."
President of North Shore Animal League America, John Stevenson stated, "Babette's passion and devotion to saving the lives of homeless animals led to Animal League America becoming the world's largest no-kill animal rescue and adoption organization."  Stevenson said that even later in life, Mrs. Lewyt continued to be involved. "While she no longer went out on rescues, she inspired the associates on how important their work is and how they make a difference by saving homeless pets."  He added, "She will be missed tremendously."
Thanks to Mrs. Lewyt's spirit and dedication, North Shore Animal League America will continue to save more pets' lives through its national programs and the Mutt-i-grees® Movement – educating a new generation and adding awareness to the plight of shelter animals everywhere.
Elisabeth Lewyt's unending passion and conviction has and will continue to make a monumental difference in the lives of countless dogs, cats, puppies and kittens.  As she once said, "If everybody was doing something for somebody, it would be a much better world." Although she is gone, her no-kill philosophy will live on, and in her memory, North Shore Animal League America is asking all potential adopters to visit a local shelter or rescue group and adopt a pet in her honor.
To learn more about Elisabeth and Alex Lewyt and the history of North Shore Animal League America, visit www.animalleague.org.
<via>
.