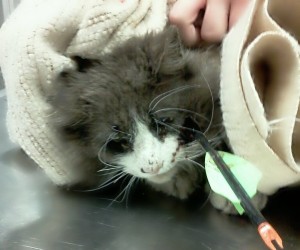 A Grand Rapids Michigan cat was found shot through the head by an arrow yesterday and has received treatment at local veterinary services. He has been taken by a rescue group which is now overseeing his veterinary care and, hopefully, his eventual adoption.
The horrible misfortune and crime against this poor stray cat is sadly just one of several cases of this type we have seen in the last two months in the US and UK, where a number of cats have similarly been shot by arrows.
Here is the case of the cat named Bow.
A stray now named Bow was found shot in the head with an arrow on May 10, a few days after neighborhood residents who fed him noticed that he had gone missing.
The kind couple who found him put $200 toward his care, which began at Michigan Veterinary Specialists. Local rescue Carol's Ferals took over his case from there and he is presently in the care of Animal Hospital of Lowell.
The arrow has been removed but little Bow is still not out of the woods, so he will continue to remain under observation and medical care.
If he recovers Carl's Ferals will continue to care for him and hopes to place him in an adoption.

Here is Bow's story as told by his friends at the Justice For Bow Facebook page which Bow's concerned supporters have started to help raise awareness of what can happen to outdoor and feral cats and to rally support for Bow. They hope to raise donations for Bow's future veterinary care. All donations should be made to Carol's Ferals. There is a ChipIn for donations.
"Bow used to be a stray cat, living somewhere near Burton and US131 in Grand Rapids, Michigan. He was being fed by multiple neighbors, but never had a place to call home. When neighbors had not seen him for a few days, they started to worry.
On May 10, 2011 he was found shot in the face with an arrow. The arrow entered his left cheek, went through his esophagus and exited just past his right shoulder. The woman who found him brought him to Michigan Veterinary Specialists, but only had $200 to donate toward his care.
The doctors and staff at MVS removed the arrow and donated antibiotics and IV fluids for him. Amy Smith Velthouse, a licensed veterinary technician at Michigan Veterianry Specialists and volunteer at Carol's Ferals was contacted to try to find a rescue to help him. She immediately called Carol Manos (of Carol's Ferals) who arranged for him to be transferred to the Animal Hospital of Lowell, where his is currently under the care of Dr. Bruce Langlois.
Bow is not "out of the woods" yet. He is still at great risk of infection and sepsis. He will be cared for by Dr. Bruce Langlois, Amy Smith Velthouse, Melissa Mulder and Carol Manos. Hopefully, if he is able to heal completely, he will eventually be adopted out through Carol's Ferals."
Update from Carol May 11, evening:
BOW UPDATE: Bow is being cared for at Animal Hospital of Lowell by Dr. Bruce Langlois. He says he is "cautiously optimistic" about his situation at this point. Since Bow has been under anesthesia and sedated, it's not possible to assess his state of mind or motor skills yet.
TV news video on the story.