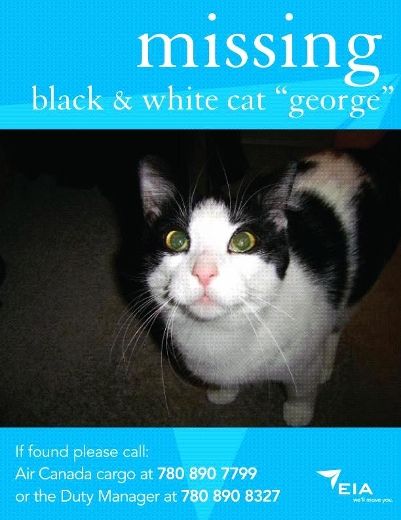 Another cat has gone missing at an airport.  This brings to mind for most of us the case of Jack the Cat , who is still missing 38 days after his peculiar disappearance from the baggage area of American Airlines at New York's JFK airport. George's case is similar to Jack's in that he somehow escaped or was released from his carrier, in a manner that does not add up for the petmom.
Vanessa Summerfield planned to send George from Fort McMurray AB back east to live with her family in Ontario until she could find an affordable pet-friendly place to live in Fort McMurray. George went missing from the Air Canada plane's cargo hold during a stopover in Edmonton on September 23.
The airline says there was a part missing from Georg'es carrier, which enabled him to escape, and reports that a baggage handler managed to catch George and return him to his carrier, but that he escaped again when being moved from the gate to the baggage room. The airline says an examination of the carrier showed that a bolt was missing. Ms. Summerfield has said, "When I left him it wasn't missing, so I'm not sure how it happened, but he managed to get out twice."
The airline has created missing cat posters, which are placed so employees, fliers, the general public and security personnel can all see them and possibly help notify staff if the missing cat is seen. They are also putting out cat food for George.  Air Canada spokesperson Angela Mah said of the search for George, "Our cargo staff spent several hours searching the ramp areas last weekend, and every day we continue to monitor these areas closely." Ms. Mah also said the airline has been in close contact with Ms. Summerfield and that instances of animals becoming lost from Air Canada flights are rare.
Ms. Summerfield was quoted saying, "I was hysterical, upset, angry, I just couldn't believe this actually happened." She has said that there was nothing wrong with George's carrier when she took him to the airport, and she still hopes that her missing cat is found.
Airport security personnel and construction crews are on the lookout but George has not been seen.
Two such heartbreaking incidents in as many months give many of us pause when we consider the prospect of entrusting our beloved pets to airlines.