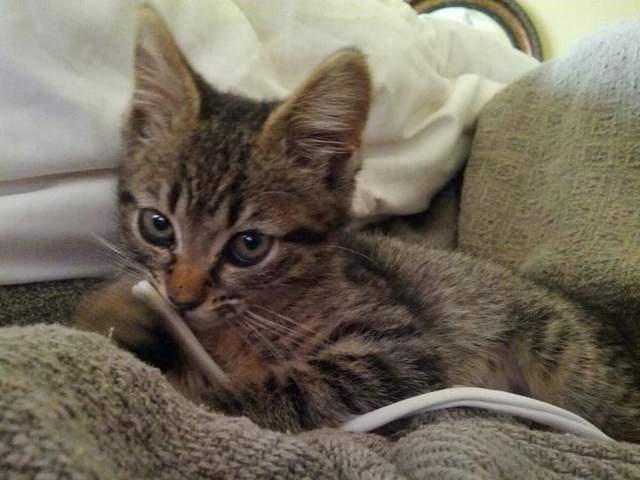 This was the caption to "Pepper"'s photo at the Humane Society of Dover-Stewart County's Facebook page on June 19, three days after she was found and rescued.
"Pepper" is a fighter ~ plz read if you are looking to adopt a strong-willed, three-legged kitten. This seven-week, female, kitten was most likely thrown out of a car into the woods behind Lance's pizza in Dover. Although abandoned, starved and her leg broken in 3 places she screamed endlessly & loudly for someone to help her. Dr. Chris Lewis attempted to pin her little leg back together but due to the extent of the injuries her leg had to be amputated. Despite all, Pepper is extremely lovable & affectionate. She will be able to get around like any other 4-legged pet.
The photo, seen at the bottom of the story, and the nutshell telling of the kitten's story, inspired a Washington State woman to adopt Pepper, now Cricket, from the all-volunteer Tennessee rescue group.
A feature in the Stewart Houston times quotes the couple who heard and rescued the kitten as they left the pizza parlor as saying,  "It was as if the kitten was screaming, 'Hey, I'm over here and I need help, please help me." The couple crossed a field to the tree line to locate and save the distressed kitten who was so desperately calling for help, then turned her over  to the Humane Society of Dover-Stewart County.
Dr. Chris Lewis of North Stewart vet clinic, determined that the seven week kitten's leg was not worth saving and would not be of good use to her, so he amputated. Little Pepper was in good spirits, and was up and around, the very next day.
Kimetha Matthews saw Pepper's adoption photo almost immediately after it was posted by the Humane Society at Facebook, and the kitten was adopted within the hour. A few days later, Pepper flew cross country to her new home.
Pepper became Cricket as she embarked on her new life. She joined a household with another three-legged cat, and a three-legged dog. The animals are therapy pets who visit hospitals and senior centers to comfort and to inspire. They offer a particular gift of hope and inspiration to people who have also lost limbs.
Not long after Cricket joined the Matthews family, Kimetha wrote to thank the rescue group, saying, "THANK YOU for the recent new addition to my furry family! Cricket is awesome and is doing great!"
Cricket's life changed drastically for the better in a very short time. The kitten went from being injured, abandoned and distressed to being healed in body and spirit, and now, if she is suited to it, she will become a therapy pet and will help Kimetha Matthews to help others.
Humane Society of Dover-Stewart County is an all-volunteer organization dedicated to improving the lives of pets in Stewart County, Tennessee. They are a small group of dedicated volunteers who rescue the stray & abandoned animals of Stewart County. Animals are rehabilitated and placed in loving homes. The rescue gladly accepts donations to fund medical care for Pepper and other animals, and to help them to continue their good works.