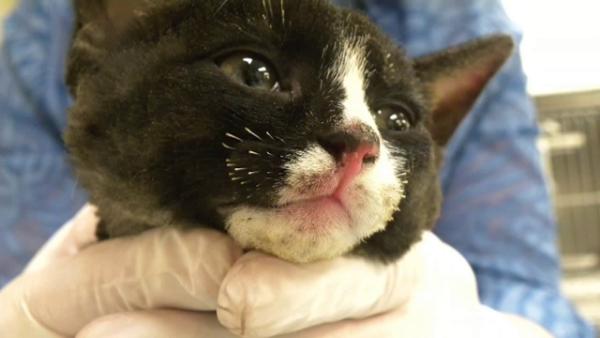 Fort Wayne, Indiana Animal Care and Control director Belinda Lewis used Sparkles' case to remind people of fireworks safety in June, as can be seen in our post on the story of June 7, Kitten Healing After Fireworks Abuse Incident Brings Call For Caution As July 4 Nears. The little cat had a rubber band around her tail when she was found, her paws were burned and her whiskers were burnt off. Investigators thought at the time that the elastic had been used to tie fireworks to Sparkles' tail.
Sparkles was brought to ACC by a Good Samaritan at the beginning of June, and she continues to recover in the care of a local veterinarian. Sparkles should be ready for adoption in a couple of months, when she is cleared by the Allen County Prosecutors Office and her vet. She will have not trouble finding a home, since publicity on her case has brought with it a long list of prospective adopters.
Matthew Jerome mugshot
The Fort Wayne division of Animal Care and Control, the police, and the prosecutor's office pursued the case for two months, and 24 year old  Mathew Jerome was arrested and charged with Sparkles' abuse yesterday. Sparkles was found near the home where Jerome lived in June, and investigators determined that the cat belonged to Jerome's girlfriend. According to the probable cause affidavit used to make the charges and the arrest, the girlfriend told investigators Jerome didn't want the cat around and complained about her. Unsurprisingly,  court records show that Jerome served four months in jail for domestic battery in 2oo9.
ACC Director Lewis commented on the case yesterday, saying, "People need to remember that in any community, it's critical to address animal cruelty. It has been shown that overt acts of animal cruelty are very strongly linked to the escalation of human violence."
Jerome is charged with two felony counts and one misdemeanor count of cruelty to animals, with bail set at $5,750. When questioned by investigators he gave answers indicating that the cat may have been injured when his lighter came near her whiskers and that he accidentally bumped her into a fire.  Dr. Randy Lockwood, senior vice president of Forensic Sciences and Anti-Cruelty Projects for the ASPCA viewed photos of Sparkles and read Jerome's statements to investigators, and said the cat's injuries on her paws are consistent with being dropped into a fire, and the consistent length of the burns suggests that it was done purposely.
The bright spots in this case that make it worth noting are that the little victim was not too severely hurt,  is recovering and will have anew home, and authorities pursued the case for months, consulted with as ASPCA expert whose findings will carry weight with the court, and got their man.
The short news report from yesterday was broadcast as authorities prepared to make their arrest.