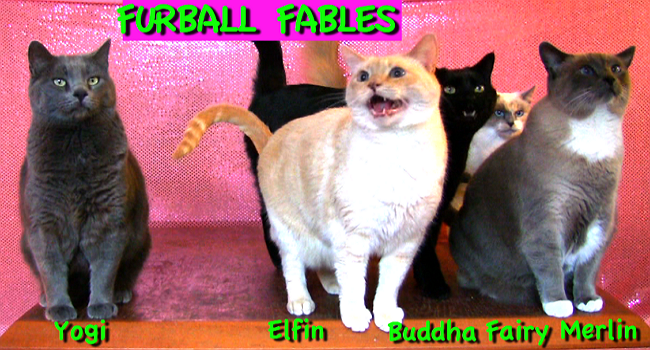 A popular series of cat-centric videos has been Furball Fables, which follows the exploits of Merlin, Fairy Princess, Elfin, Buddha and Yogi.  These adorable cats are all kind enough to share their home with Chase Holiday, the creative mind behind all things Furball.  Wanting to find out more about Chase and the entourage that comprises the Furball Fables cast, an interview was organized and the following, which seems like it should have it's own Furball Fables  segment, ensured.
Chase Holiday:              First off Adrea, I must tell you that Yogi and Buddha have insisted on sitting in on our interview.  I hope you don't mind. Yogi can be kind of naughty too so I hope he behaves.  Did you hear me Yogi? Don't ignore me please!
LifeWithCats:                Oh, no worries.  And Yogi and Buddha, feel free to chime in.  Okay, Chase, this first question is for you.  Can you share the inspiration behind Furball Fables?
CH:                    I sometimes work as videographer, mostly with kids.  I did a lot of short films for the Los Angeles Girl Scouts and I wanted to make my own video's to put on Youtube.  One day I saw a Mean Kitty video and I thought it could be a lot of fun to make cat videos.  I am also a storyteller and puppeteer, so it occurred to me that I wanted to tell stories with cats.  However, I didn't start for another year.  I ended up rescuing 3 black kittens that belonged to an old friend of mine.  The kittens were in danger of going to the pound because of a terrible landlord. They were about 10 weeks old.  I had been on the phone with my friend the day they were born.  So I came to the rescue. Eventually I put up a video on Furball Fables to find homes for the kittens. That is how Furball Fables started.  The response we got was great. The whole rescue story is quite amazing. You can read it here and see the video.
LWC:              Read of Chase's exploits in the article posted on LifeWithCats called 3 Lucky Cute Kittens: A Gripping Rescue Tale From the Furball Fables Video Creator  and view the video that started it all, below:  
LWC:              So we know about Buddha's tale that ended with a happy tail, but what about the rest of your kitties?  What are their stories? How they came to you?
CH:                 I had two Siamese siblings who lived to the age of 21 and 22, and I was so heartbroken when the 22 year old died. I was beside myself with grief.  I haunted all the pet adoption sites and decided I would adopt Siamese kittens from the Southern California Siamese Rescue.  I first saw the 3 brothers, Merlin, Elfin and Yogi when they were a month old.  They had only been on the website an hour when I put in my application.  Fairy Princess was also at the shelter and was very close to Merlin, so I decided to adopt her too. (This is what happens to a mourning Cat Mom!)
Yogi:               I'm a Russian Blue but they (SCSR) took me anyway!
Buddha:        I thought the human was your Mom?
LWC:              Good to know, boys.  Chase, what can you tell me about the different personalities of your clowder? How do they get along?
CH:                 There are 5 Furball Fables cats.  Merlin, Fairy Princess, Elfin, Buddha and Yogi.  Luckily for the most part everyone gets along. Merlin is top cat, he gets along with everyone and is the peacekeeper. Fairy is the only girl and is half the size of the rest of the furballs, but the bravest of all.  She and Merlin are still very close and someday maybe we will see a wedding.  Yogi is our resident bad boy. (Don't listen Yogi.) Trouble is his middle name and he is always looking for it.  Recently we collaborated with some other Youtubers for a "Dating Yogi video" that was a lot of fun.
Elfin is very beautiful but very shy and feral in attitude. We call him the most adorable scaredy cat.  He loves to play by himself.
Buddha is buds with Yogi (his little Buddy) he is very easy going and calm.  That is how he got his name. Buddha has inspired me to take up the cause of Black Cats.  We continue to try and educate humans about the fact that black are NOT unlucky. When his two brothers, Lucky and Ziggy were adopted, the 4 Furballs wanted to keep Buddha.  I had no choice in the matter.
Yogi:               You got that right. Besides you loved him too!
CH:                 True!
Buddha:        Thank you!! Can you read me that story again tonight at bedtime please?
LWC:              Have you always been a cat person?
CH:                 No, my parents always had dogs. I had a roommate in my 20's who had cats, and I fell madly in love with a brilliant white Siamese named Bing!
LWC:              Tell me a little about the website.
CH:                 The website is new and something we are slowly working on.  I wanted some place where I could create and organize what was there rather than the restraints of social media sites like Youtube or Facebook.  Also, I wanted to add products and art and so I needed some place to feature these things.  I will be posting regularly and I'd like to cover other cat related subjects besides our video content.
http://furballfables.com
LWC:              Of  course the natural follow-up question to that is what do the cats think of the website?
Yogi:               Not enough pictures of me!
Buddha:        Check out the Black Cats Are Cool T-shirts!
CH:                 Fairy has joined us.
Fairy:             I think it's exciting to see what our human will do outside of youtube. She's so creative!
LWC:              Thank you for bringing up Youtube, Fairy.  That makes for a perfect transition to ask you, Chase, what's been going on with your Youtube channel?
CH:                 Youtube is still very hard landscape to succeed on.  We are trying to build a stronger community there and get more subscribers.  We do well when other websites like Life With Cats share our video's. It can be very disappointing to see low views on a video that I may have worked weeks on, spending countless hours.  I have been asked why we are still making videos when so many other cat content creators have stopped and I have to say, because I love it so much.  It is so fun to come up with the idea's, plan it, create storyboards, find the perfect music, shoot and edit.  I also love the social interaction on Youtube and Facebook.  We have some long time viewers that are so loyal and that keeps me going and inspires me.
We have been experimenting with other video sharing sites, like Facebook and Rumble.  Rumble shared our Mother's Day video, That's What Cat Mom's do on Facebook  in May and it has 4.5 million plus views and has been shared almost 200,000 times. That amazed me. Reading through the comments made me weep.  I was so touched by all these women that related to the video.
I know there is a very strong market for cat videos, so I will keep making content and hope it catches on somewhere, sometime soon whether it's on Youtube or another site.
I have been going to school for the last year learning the Adobe Creative Suite programs. (Premiere, Photoshop, Illustrator, InDesign and After Effects). This is super exciting and soon you will be able to see some new types of content on Furball Fables as well as the products and art.
LWC:              Do you have anything special coming out in the next few months?
CH:                 Yes, I have 4 big video's in different phrases of production.  Two will feature animation and art.  I can't wait to see how that is received.  I am also trying to feature more humans in our videos.
I have submitted a bunch of video's to the new Cat Video Fest run by Will Braden which will premiere in our hometown, Los Angeles at . So I am keeping my fingers crossed! We were in the 2014 CatVidFest. I will certainly cover CatConLA in June for our website.
LWC:              Is there anything that might surprise someone to find out about Furball Fables?
CH:                 All 5 cats come on the bed every morning and meditate with me.  Also all 5 cats are very vocal.  Buddha talks the most and some days he has so much to say.
All of our video's feature a story of some kind. Also we try to tell stories from the cats' purrspective. Another fun fact is that a lot of our holiday videos continue to do well every year.  Lastly, Cats vs. Bubble Wrap just passsed a million views and was nominated for the Bubblewrap Hall of Fame Award.
Yogi:               Someone stop her or she'll keep going.
Buddha:        And she says I talk a lot!
LWC:              That's alright, guys.  It's interesting.  So, before we go, Chase, anything else you think our readers might like to know?
CH:                 Thank you so much to Life With Cats for this interview and for supporting us and posting so many of our videos. The former LWC editor, Karen Harrison Binette was one of our early supporters and I was always very grateful for her kindness to us. I hope your readers will subscribe to our Youtube channel.  They can also find us on Facebook, Twitter, G+, and Instagram. Watch for our products this summer.
Buddha:        Is it true you have two black cats named Malcolm and Martin? Say hi for me and tell them "Black Cats Are COOL!!"
Yogi:               I hear Malcolm is very calculating. Could you have him get in touch with me?
Fairy:             Don't trust Yogi, Adrea! He's very crafty!