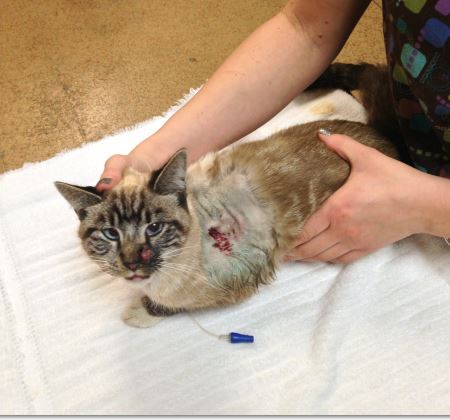 A Washington City, UT  cat now named Quiver was found in a park on Wednesday with an arrow shot through her face and coming out her side. One More Chance (C.A.T.S.) volunteer Candice Zook, found Quiver hiding under a bush  in Nisson Park in Washington at 9:30 am, with the arrow sticking out of her head.
Quiver was helped at Washington Family Veterinary Clinic, where staff removed the arrow and did some repair work on her mouth. Quiver remains at the clinic recovering from surgery. Staff are optimistic about Quiver making a full recovery but are concerned that scar tissue may form at the site of the wound in her esophagus, in an area they were not able to reach.
"We have high hopes for her," Washington Family Veterinary Clinic vet tech Shanna Faapuna told The Independent.  "She doesn't look too hot right now" she said on Thursday afternoon following surgery,  "but her attitude is amazing."
Quiver is already able to eat on her own again, a good sign.
Washington Family Veterinary Clinic shared a series of photos of Quiver at Facebook (click the link to see the photos) on Thursday and wrote: "This is Quiver, she came to us yesterday with an arrow through her. The arrow went in next to the nose and came out thorough the shoulder blade. She will be recovering here at the clinic until she is able to return to Kris Neal with One More Chance. If you would like to donate to her cause [for her medical care] you can contact the clinic at (435)627-1300 during normal business hours."
Quiver is a friendly and affectionate cat who One More Chance volunteers feel was recently abandoned by her family. They hope to adopt her into a loving home when she is healed.
The incident has shocked the community and has gotten the attention of the Humane Society of Utah, Best Friends Animal Society, and the Humane Society of the United States (HSUS). A reward with a combined total of $9,000 is being offered for information leading to the arrest and conviction of the person who shot the arrow into Quiver. Veternary staffers say the arrow must have been shot from close range and it was most likely not an accident.
The Humane Society of Utah is offering $3,000, Best Friends is offering $1,000 and HSUs is offering $5,000.
Washington City police are investigating the case.
Watch a KUTV news report on the story HERE.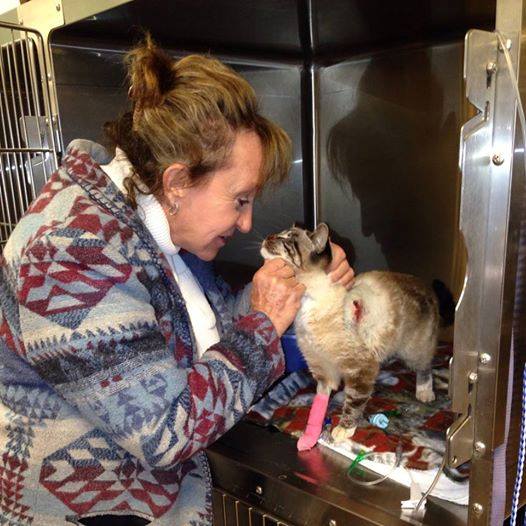 News release from best Friends Animal Society:
Best Friends Animal Society offers $ 1,000 reward for information leading to arrest, conviction in animal welfare case where
cat was shot with arrow
WASHINGTON CITY, Utah — Kanab – based national animal welfare organization Best Friends Animal Society is offering a $1,000 reward for information leading to the arrest and conviction of person(s) responsible for shooting a cat in the head with an arrow.
The cat was one of several community cats being cared for near a park in Washington City by volunteers with One More Chance C.A.T.S. and had not been seen for a few days. A volunteer found the cat impaled with an arrow and Washington Family Veterinary Clinic accepted the cat for emergency medical treatment.
Now dubbed "Quiver" the cat successfully survived surgery to remove the arrow and the medical team at the veterinarian clinic report she is improving.
"We were all deeply saddened at seeing what Quiver went through, and shocked to know that someone out there could inflict this kind of cruelty on another living being," said Janice Dankert, supervisor for Best Friends' Four Directions Community Cat program
.
Anyone with information regarding the case is encouraged to call the Washington City Animal Shelter at 435-673-7194.
Donations for Quiver's medical care are being taken at the Washington Family Vet Clinic, 969 N. 3050 East. Any donations above and beyond her bills will be put toward an emergency medical fund used to treat other animals in emergency conditions.