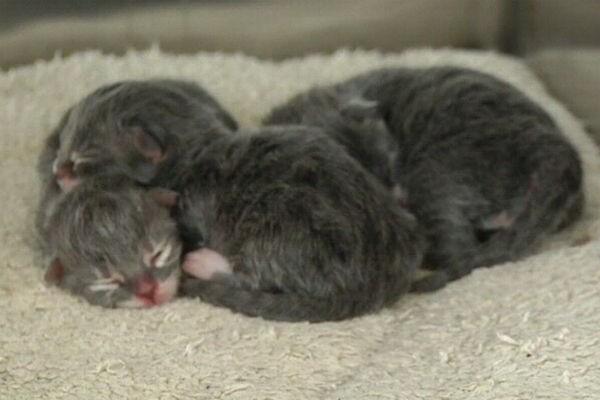 90 year old Dillonville, OH resident Elizabeth Marcus pleaded no contest to three counts of animal cruelty at a hearing last month and was sentenced at a later hearing on June 26.
Our post  on June 7, Road Worker Rescues Day Old Kittens From Creek, told the story of three newborn kittens saved by a road crew when the elderly woman came out of her house and tossed a plastic bag containing them into a creek. Marcus was charged, and received a sentence that took  her age, the fact that she has been feeding several cats,  and, perhaps, her use of old ways that are unacceptable today, into consideration.
Marcus, who is hard of hearing and possibly a bit confused, was accompanied by her sister to both hearings. The judge had to patiently repeat and clarify points for her when she accepted responsibility for her actions at the first hearing. When sentencing came on June 26, Judge David J. Scarpone stated that the incident warranted jail time but he was going to waive that.
"Given her age, obviously there's not going to be a jail sentence, but this is a jail-able offense," Scarpone said. "I'm going to suspend it, I'm not even going to do that."
Instead, Marcus was ordered to pay the $65 adoption fee for each of the (then) three kittens, so their adoptions would come at her expense.
Additionally, the local cats being fed and watered by Marcus had to be turned over to the Moundsville Animal Shelter. Marcus was allowed to keep one cat, and arrangements were made for the cat to be spayed.
To recap the rescue:
A crew doing road work in Dillonville, OH in the first week of June was in the right place at the right time to save the three little lives.
"We were all working along there cleaning and we saw this lady out in her yard. A little bit later she came out and threw a blue bag into the creek. We were all watching to see what it might be and we could tell it was moving. Then, we could hear the kittens meowing," road worker Steve Taylor said.
Crew member Bobby Baumgardner, who declined to be interviewed afterward, jumped into the creek and rescued the kittens. The kittens were placed in the care of the Jefferson County Humane Society.
"If it was not for those road workers, these babies would have passed by now. Now, they have a chance at life," said Jefferson County Humane Society Manager Cassandra Howell at the time.
Since the June 6 incident, when the newborn babies were thrown away into the water, they have been in the loving care of the Humane Society, in a foster home with a board member.
Photos and updates on the kittens  below come via the Jefferson County Humane Society and Jefferson County Animal Shelter at Facebook. The Humane Society has treated the kittens' story with love and respect. They were all said to be doing well, their one-week birthday was celebrated, then more recently it was announced that one of the three babies had died. The other two are expected to be made available for adoption in another month.
June 12: "We three "creek" kitties are celebrating our 1 week birthday!!! We are very blessed and have people who say a prayer for us every day. It is not easy to survive being so young and motherless, but we have a great will to live. Our Foster Mom says it is now time to give us a name besides "creek kitties" and we would like our Facebook Friends to help give us a name. Mom thinks we are all boys. Please post your suggestion for our names and the one with the most likes will get to name us." (The kittens are males, and have been named.)

June 28: "Hello. We are the "Creek Kittens" and our names are Tad and Minnow (Min). Our brother Cray was not strong enough to handle all he was given in this world despite everything our Foster Mom tried. We are now just over 3 weeks old, our eyes are now open, we are still on baby kitty formula and Mom can't wait until we start eating real food. We are safe, warm, have full bellies and are very happy. We should be ready for adoption in about four weeks."