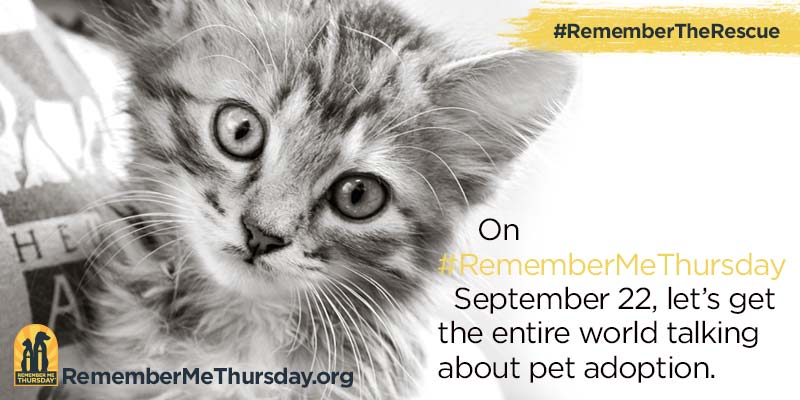 The Helen Woodward Animal Center has partnered with Blue Buffalo for the 4th Annual Remember Me Thursday event slated for September 22.  Celebrated the 4th Thursday of September, it focuses on being an advocating voice for all the orphan animals in the world seeking forever homes.
From its origination in 2013, Remember Me Thursday, has grown to include 164 countries, over 500 distinct animal welfare organizations, and thousands of individuals joining in candle-lighting ceremonies accompanied by social media campaigns to illuminate the cause for animals in need of forever homes.
…………………………………………………………………………………………………………………………………………………………………………………………………………………………………………
According to the organization's press release, in addition to over fifty influential celebrities, social media stars Lil BUB, Cole and Marmalade, and Tuna Melts My Heart will be lending their paws for this important cause, as well as humans like Alan Cumming, Diane Keaton, Liam Hendriks, Holly Madison, and Jackson Galaxy, just to name a few.
…………………………………………………………………………………………………………………………………………………………………………………………………………………………………………
"Millions of beautiful, adoptable pets will lose their lives in 2016," stated Mike Arms in the release.  Arms, President and CEO of Helen Woodward Animal Center,  has been championing the event since its beginning, in addition to being the creator of both the International Pet Adoptathon and Home 4 the Holidays Pet Adoption Drive, operated in conjunction with animal organizations.  Through these joint efforts, there has been placement of over 12 million pets since 1999 into forever homes. "We all come from different countries, cultures, and backgrounds, but together, we can raise our voices and literally save millions of pets on this one day."
New this year is a contest where participants can win their favorite pet adoption organization life-saving funds, gifts and food for adoptable pets. Visit the Remember Me Thursday Social Media Contest to upload a rescue pet's photo and story to the #RememberTheRescue Photo Wall for the chance to win.  Among the prizes, Blue Buffalo pet food, Kong toys, cash donations from Embrace Pet Insurance and Helen Woodward Animal Center, sent directly to the animal organization of choice.
For more information on how you and your organization can become involved, please visit www.remembermethursday.org.  Individuals are also encouraged to participate through the virtual candle on-line at www.remembermethursday.org or organizing or taking part in local area events.
https://www.youtube.com/watch?v=KRKbGJxBvKk