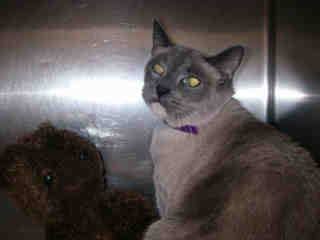 .
Poor AJ suffered the loss of two feline companions and was having a hard time coping so, rather than giving him extra love and understanding, his family dumped him at the shelter with only his teddy bear to keep him company and remind him of the security and familiarity of the home he had lost.
When AJ's photo and story appeared on Facebook and other social media platforms yesterday, animal lovers were heartbroken for the sad and frightened abandoned cat.
His pitiful circumstances and his teddy bear made AJ stand out from the hundreds of cats shared and networked online every day, though, and he is set for rescue and a new life.
AJ was left at the Castaic shelter in Castaic, CA. Despite being inundated with cats in foster care, MeoowzResQ cat rescue in Orange, CA, 70 miles from Castaic, offered to rescue AJ once a foster caregiver said she would care for him.
AJ is scheduled to be taken from the shelter by MeoowzResQ on Wednesday, and he has an adopter lined up already who is eager to give him a home.
Bridget Hagaman-Alves shared AJ's photo to Facebook Monday, along with this caption:
"DUMPED AT THE SHELTER WITH HIS TEDDY BEAR"
"AJ was surrendered yesterday to the Castaic Shelter. His family said that they had 2 other cats that had died and AJ had begun acting out, so they did what any good family would do, and rather than comfort AJ and care for him they dumped him at the shelter. I met him yesterday and he was still very scared so I decided not to start flashing pictures of him. He is really handsome and has beautiful eyes. Please share AJ and let's get him out!"
Elisa Black-Taylor wrote in a piece on AJ in The Examiner:
"Rather than give AJ the comfort he desperately needed as he adjusted to life without his cat friends, AJ was given his stuffed teddy bear. His favorite toy is all AJ has for companionship as he waits for either a home or euthanasia.
"Since he was an owner turn in, the shelter isn't obligated to hold him for several days. His family won't be coming to the shelter to search for him, because they've already thrown him away."
MeoowzResQ wrote at Facebook today:
"We have some really exciting news! AJ was adopted today at noon before we could even go get him. All the sharing and publicity brought his forever family to him. Thank you all for helping spread the word for him."
Kris Koenig commented,  "My friend adopted him! They will let her bring him home on Friday! She is thrilled, and AJ will have a great home with other cats and humans to play with him so he won't be lonely. And his teddy bear comes with him!"